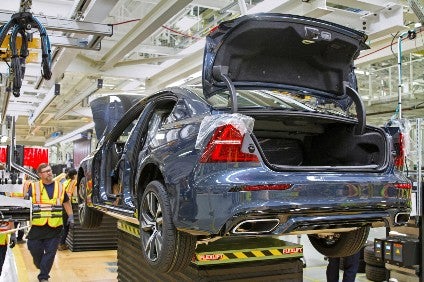 Geely-owned Volvo Cars is making significant changes to its plant-model production mix plans due to the imposition of higher trade tariffs between the US and China.
Volvo will now alter plans at its South Carolina plant, making the S60 sedan so that it exports much less and is focused on supplying the US market. However, Bloomberg reports that the plant will continue to ship S60s to Europe from Charleston and will continue to import the XC60 SUV from Europe to the US.
The Charleston plant is the only manufacturing location for the S60 (production started in September), so exports are necessary to markets where it is to be sold. China is now off the sales list. Volvo is also said to have down-scaled its plans for S60 build to just 40,000 cars per annum. When the XC90 is added, combined annual production should rise closer to 100,000 units.
Volvo hasn't passed along the cost of the tariffs to customers of the XC60s it imports from China and that is taking a big toll on the carmaker's profits – more will come from Europe in the future.
Starting in 2021, Volvo plans to produce the XC90 model in Charleston and export it to Europe and possibly China. However, it will now consider making that model in China.