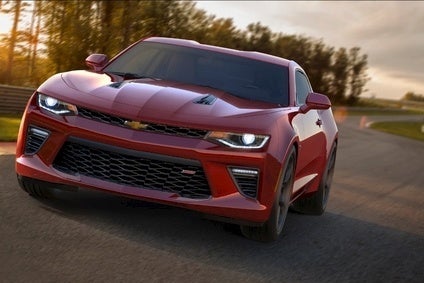 General Motors has included the first turbocharged engine in the history of the Chevrolet Camaro as part of the new, 2016 model year coupe range.
This sixth generation car has been revealed to the media as a coupe but a convertible is almost certain to follow later in the year – probably at the LA auto show in November. The new coupe is two inches shorter than the outgoing one, an inch narrower and an inch lower.
The Canadian Workers' Union (CAW) reacted with anger to GM's December 2012 announcement that the replacement for today's Oshawa, Ontario-built Camaro would shift to the Grand River plant at Lansing in Michigan. Production of the fifth generation model is due to end on 20 November, just as build of the new model is ramping up south of the border.
The sixth generation Camaro shares the basis of its Alpha platform with the Lansing-built Cadillac ATS sedan, ATS coupe and CTS sedan but GM says 70% of the architecture is unique to the big coupe.
The base variant is powered by a four-cylinder engine, while a V6 and a V8 again also feature. The 2.0-litre unit is the first turbocharged engine to be available in any Camaro. It produces 275hp (205kW), while the 3.6-litre V6 has an output of 335hp (250kW) and the 6.2-litre V8 produces 455hp (339kW). Six-speed manual and eight-speed automatic transmissions are available depending on the engine.