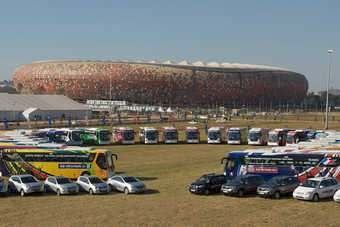 Hyundai has added its voice to the weight of concern surrounding the crisis currently engulfing FIFA as world football's governing body faces arguably its greatest challenge ever.
The Korean manufacturer – along with subsidiary Kia – is one of FIFA's main sponsors and has reacted with alarm to the dramatic turn of events yesterday (27 May), which saw a joint operation between the US Federal Bureau of Investigation (FBI) and Swiss authorities result in the US body charging nine officials with racketeering, wire fraud and money laundering among other offences.
In all, the FBI is alleging more than US$150m in bribes and kickbacks were paid or agreed to be paid to obtain media and marketing rights to international soccer tournaments.
The automakers are among an extremely select group of FIFA sponsors, who number global blue chip companies among them such as Coca Cola, Adidas, Visa and GAZprom, with their presence at FIFA's flagship event, the football World Cup, jealously guarded as to exclusivity.
"As a company that places the highest priority on ethical standards and transparency, Hyundai Motor is extremely concerned about the legal proceedings being taken against certain FIFA executives and will continue to monitor the situation closely," said a Hyundai statement sent to just-auto from Germany, while Kia also issued a similar declaration.
Events yesterday occurred with extraordinary speed and came just 24h before today's opening of FIFA's Congress in Zurich, designed to elect a new president, although some affiliate organisations have expressed grave doubts this should now proceed.
Despite America not being renowned as a football nation, it appears Attorney General, Loretta Lynch was motivated by what she describes as: "Corruption that is rampant, systemic and deep-rooted, both abroad and here in the US," while FBI director, James Comey, notes:
"Undisclosed and illegal payments, kickbacks and bribes became a way of doing business at FIFA.
"The defendants fostered a culture of corruption and greed that created an uneven playing field for the biggest sport in the world."
As well as calls for a boycott of tomorrow's presidential vote, there have also been suggestions that the awarding of the next two World Cups to Russia (2018) and Qatar (2022) could be reviewed.
Hyundai started its association with FIFA in 1999 and previously said it will continue to be a top-tier sponsor of FIFA as Automotive Official Partner until 2022.
The automaker is due to support all FIFA competitions including the next FIFA World Cups, Confederations Cups, Women's World Cups, U-20 and U-17 World Cups.
"This is a difficult time for football, the fans and for FIFA as an organisation," said FIFA president, Sepp Blatter. "We understand the disappointment many have expressed and I know the events of today will impact the way in which many people view us.
"As unfortunate as these events are, it should be clear we welcome the actions and the investigations by the US and Swiss authorities and believe it will help to reinforce measures FIFA has already taken to root out any wrongdoing in football."