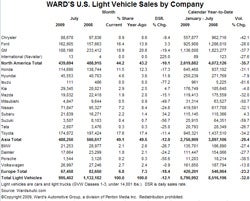 Did the 690,000 new vehicles put on US roads by the 'cash for clunkers' government incentive scheme boost sales in August? You bet. The industry booked its first rise in almost two years – 4.9% to 1,258,944 units, according to WardsAuto.com, which adjusts for selling days.
But year to date sales were still down 27.8% to 7,050,199 and the big question is 'what happens now?' as the CARS scheme has ended.
It's on the mind of John Mendel, executive vice president of American Honda: "The challenge will be maintaining this momentum going forward."
" 'Cash for clunkers' brought customers back to the showrooms in volumes we haven't seen in nearly 18 months," said Jim O'Sullivan, Mazda North America's president and CEO.
"Nearly every manufacturer with a qualifying vehicle saw a lift for the month. We're hopeful that we've turned the corner and that better times are ahead for the industry."
Amongst the three home-grown brands only Ford, as analyst George Pipas had predicted, posted a gain – 22.2% to 179,644 vehicles. GM was down 17% to 245,575 and Chrysler off 12.4% to 92,619.
In Asian import land, a number of brands booked record sales. Kia soared 66.5% to 40,198 and parent Hyundai booked a rise of 52.7% to 60,467.
Major players Toyota (up 10.5% to 225,088), Honda (+14.2%; 161,439) and Nissan (+0.8%; 105,312) all posted rises but Mitsubishi was down 23.1% to 6,813.
Amongst the Europeans, Volkswagen (+19%; 32,880) and Porsche (+12.9; 1,526) posted rises; Daimler (-7%; 18,757) and BMW (-18.3%; 24,343) saw falls.
On an annualised basis, industry-wide US sales topped 14m units, according to Autodata, above the 13.6m in August 2008 but well below the 16m range that had been seen as bottom until the credit crisis began to bite in 2007.
GM sales chief Mark LaNeve said the CARS programme intended to prod buyers into more fuel efficient vehicles had clearly benefited Asian automakers more than his company.
"If it would have been a cash for capable trucks (programme), we would have killed them, but it wasn't," LaNeve said. "It was designed for smaller cars and smaller crossovers and although we're gaining ground quick, they still have more volume in that area."
"I think perception hurt GM," Jessica Caldwell, director of industry analysis at Edmunds.com, said. "People didn't really see GM as a place to turn to when they needed to buy a fuel-efficient vehicle."
Chrysler claimed it had lost potential sales when dealers ran short on some models due to the production shutdown during the bankruptcy process that ended in June.
Auto executives said they were banking on improved demand in the fourth quarter and a rebound of 10% or more in 2010.
"We see some drop-off in September, but we are starting to see concrete signs of automotive recovery moving into the fourth quarter," said Toyota brand manager Bob Carter.
BMW said it also expects US sales to increase over the remainder of the year even without any further support from the Obama administration.
"I think they've done the experiment. It's worked. But I don't think it will be repeated," BMW North America President Jim O'Donnell told Reuters.
"I think car sales will continue to steadily rise as we move out of the worst of the recession."
GM's sales analyst, Mike DiGiovanni, told Dow Jones he expects the annualised selling rate to fall back to 10.5m for the year and that the auto maker expects a jump to between 11.5 and 12m in 2010.
Ford reported a rise in F-series trucks sales – a sign the economy is improving as tradesmen invest in new transport. The model remained the top-seller in August with 261,549 units, ahead of Toyota's Camry (238,612) and the Chevrolet Silverado (209,987).