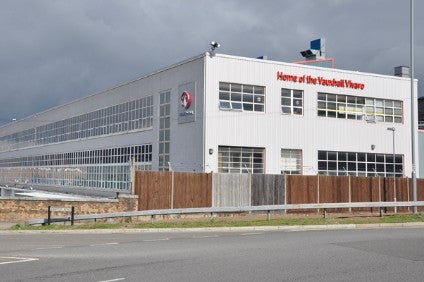 PSA's Vauxhall Vans plant in Luton will add a third shift, from Sunday 12 July, following negotiations with unions at several UK sites.
The automaker has recruited 188 volunteers from the Ellesmere Port Astra assembly plant to boost the Luton workforce to 1,750 people.
Manufacturing at the Luton site recommenced on 18 May with one shift after the deployment of a protocol of reinforced health measures due to the COVID-19 pandemic.
A second shift started on 1 June to increase output at the site as demand for light vans began to recover.
PSA said an agreement with the UK's Unite autoworkers union had resulted in the 188 volunteer employees from Ellesmere Port and also Vauxhall's parts distribution centre in Luton transferring to assist the Luton vans workforce temporarily.
Vauxhall Motors is covering transportation and expenses for all staff involved.
PSA said in June: "The company proposal [to transfer staff from other sites to the Luton van plant] is based on the 'European manufacturing solidarity' principle in force at PSA Group and will mitigate the social risk against temporary low activity at some plants and support the ability to respond to significant demand for LCV production with highly trained and skilled workers from the Ellesmere Port site."
A PSA spokeswoman told just-auto Ellesmere Port was being reconfigured to provide social distancing and other safety measures for employees to enable production to resume during the COVID-19 crisis but production of Opel and Vauxhall Astra models had not yet restarted.