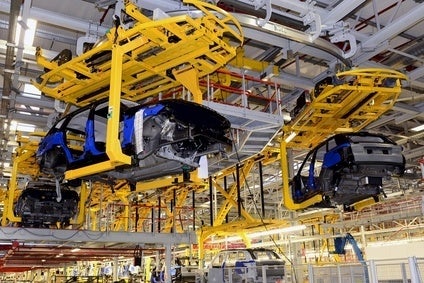 UK car manufacturing output increased 40.6% year on year in August, according to latest data from The Society of Motor Manufacturers and Traders (SMMT). Some 99,910 cars were built last month, taking year to date production past one million – an annual gain of 1.6%.
SMMT chief executive Mike Hawes said in a statement: "The quieter summer months are traditionally subject to fluctuation as production is paused for essential upgrades and August's strong growth wasn't unexpected given the 22.1% fall in the same month last year when the 2014 holiday period fell. The rise also follows a flatter July in line with this year's earlier scheduled shutdown. That said, with an overall increase of 1.6% so far in 2015, and the strongest year-to-date performance since 2008, the industry is in a good position.
"It seems that the UK car industry has confounded summer traditions with manufacturing figures passing the one million mark in August for the first time since 2008 and a 40.6% rise over the same month last year. Although this could be influenced by an earlier summer shutdown, the strong August figures are backed up by the fact year to date output is up by 1.6%, with a particularly strong increase within the home market at 11.1%.
"The resilience of UK car manufacturing figures is apparent despite ongoing volatility in the global markets, and the high-profile challenges facing Volkswagen this week. This resilience has benefited from the GBP6bn investment by vehicle manufacturers in developing long term strategies to support new models and facilities in the UK. The increased capacity will service the continuing strength of UK market, as well as the export market across continental Europe.
"Recent announcements include Honda's GBP200m investment in the next generation of five-door Civic, Nissan's investment to support production of the Infiniti Q30 and QX30 models, alongside the almost continuous investment by JLR in UK facilities. Long-term, the UK should achieve its ambition of reaching record volumes within the next 24 months."