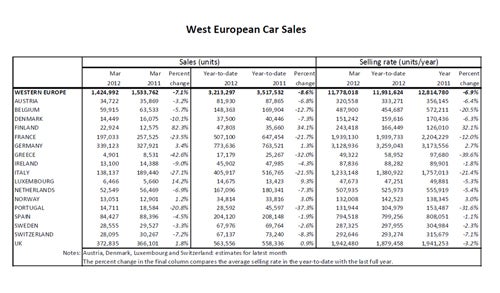 Car sales in Western Europe declined again in March, with the fall led by a collapse to sales in Italy.
Data released by LMC Automotive shows that March marked the sixth consecutive month of year-on-year declines, with nearly all national markets shrinking.
LMC said that the the market that stands out as being in most trouble in March is Italy. It was already in bad shape this time last year, but plummeted a further 27% last month taking the Seasonally Adjusted Annualised Rate (SAAR) of sales down to just 1.23m units a year. An auto transport truckers strike has had some impact, though the ongoing weakness of the economy is the critical issue, LMC maintains.
One bright spot in the gloom was the German car market, which managed a March gain of 3.4% and was up by 1.3% in the first quarter.
UK car sales were also a little higher in what is seasonally an important month because of the registration plate change.
However, the car markets of France (March SAAR of 1.94m) and Spain (another SAAR below 800,000 units) both struggled compared to a year ago, with no suggestion that this situation will change any time soon, LMC noted.
The West European car market SAAR in March fell to an estimated 11.8m units a year (for comparison, the pre-crisis 2007 car market was 14.8m units).
LMC's forecast for 2012 is for a West European car market of 11.99m units, some 6.4% below last year's total.