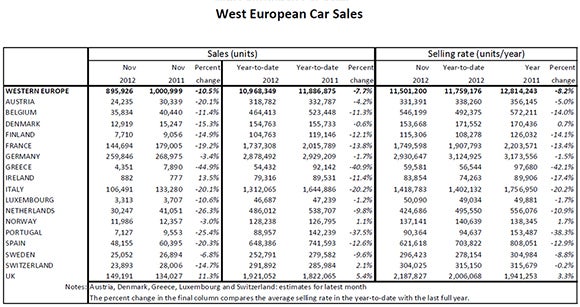 Car sales in Western Europe fell by 10.5% in November, according to data released by LMC Automotive.
LMC said that the Seasonally Adjusted Annualised Rate (SAAR) of sales for the region stood at just 11.5m units a year.
For the full year, the West European car market looks set to fall by 8% which would make it the third annual fall in a row, and with a full year forecast of 11.8m units, this would see the market some 3m units down on the level achieved in 2007.
LMC said that the nature of the market development over 2012 has also been a cause for concern and highlighted a recent decline to demand. It said that the selling rates in the first half of the year averaged 12.2m units a year but more recent rates have been closer to 11.3m units a year.
The forecasting company said that the coming months, as we head into 2013, are also going to remain weak and it is forecasting a further market decline of 3% for 2013.
The German car market was down by 3.4% in November, with the year-to-date market down by 1.7%. The German market registered another sub-3m unit a year selling rate, and looks set to come in at 3.1m units for 2012, according to LMC estimates.
The French market saw another big fall in November – car sales down by 19.2% on last year. The French car market full year total is projected at 1.9m units which would make it the weakest result in France since 1997. Italy and Spain are also set for significant declines for 2012, with lack of confidence and rising unemployment having put off potential new car buyers, LMC says.
One positive is the UK car market, which in November continued to move in contrast to the rest of the region, growing 11.3%.
Also on the plus side, LMC notes that the risk, at least in the near term, of a serious contraction in the economy related to some form of eurozone break-up has abated.
It also said that one potential factor that could have an influence on the car market is the re-adoption of government incentives such as scrappage support. This has once again been adopted in limited form in Spain, though the positive impact on the market there has yet to be really felt.
However, LMC noted that any wider adoption of scrappage schemes would still fail to tackle the more fundamental issues of over-capacity in the industry and ongoing economic headwinds.