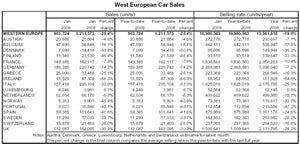 Car sales in Western Europe plunged by 25.4% in January according to data issued by JD Power Automotive Forecasting.

The forecasting firm said that the result represented a seasonally adjusted annualised rate of sales of just 11m units a year, the lowest since the recession of the early 1990s. However, it also said the scale of the decline reflected some payback for a December in which incentive activity boosted sales.

It said that a deep region-wide economic recession is now a core assumption and the questions to be answered are clear. How long will the car market remain in a slump? And how low sales will go this year?

JD Power said it believes it is unlikely that car sales can recover at all in 2009 and that a late 2010 recovery is the most likely timing for an improvement in the market, though risks remain high and all will depend on economic improvements, not least in employment, coming through in mid-2010. Its base case forecast now assumes a contraction in West European car sales of over 16% in 2009 with only a 2% increase in 2010.

The firm also assessed sales in Germany in the light of scrappage incentives there, with mixed results on the efficacy on such measures. It said the January result in Germany (down by 14.2%), partially influenced by the introduction of the incentives, was less than convincing with a selling rate of under 2.9m units a year. However, conflicting reports indicate that, on the one hand, some buyers were offered the incentive ahead of its official introduction while, on the other hand, buyers held back waiting for February (or later).
JD Power said that in the current economic environment, the sensitivity to such incentives will be much reduced and that, though there will be some market volatility from month to month, the overall impact will not be very large. Yet as a result of these clear uncertainties, Germany will remain the market to watch, it said.
Sales in Spain fell again with a selling rate of 876,000 units/year in January, but the market now seems to reaching its "recession level", a point at which it will stay in the absence of a marked change in the outlook. Last year's 28% decline is likely to be followed by a fall of more than 25% in 2009.
Italian sales also reached new lows in January, though payback from a strong December partly explains this. A double-digit decline remains a core assumption for 2009.
The UK market fell back sharply in January, by over 30%, again partly a result of December payback but also reflecting the dire economic situation and outlook. Meanwhile, the French market struggled despite the incentives on offer and instances of OEMs supplementing this incentive with offers of their own.