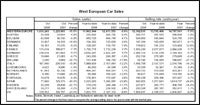 Data released by JD Power Automotive Forecasting shows that the West European car market declined sharply in October.
The market analyst and forecaster said that the October car market was down by 15.5% year-on-year and said that the speed and severity of the market decline is now comparable to that which took place during the recession of the early 1990s.
The fall in demand is based firmly on the darkening economic environment with further impact being felt from expensive financing and the hammer blow that was dealt to consumer confidence resulting from the financial market crisis, JD Power said.
JD Power also noted that dealing with this sharply reduced level of demand through 2009 'will place major strains on the European car-making industry'.
The German car market was down by 8.2% in October (the year-to-date market was up by 0.3%) as Europe's largest national market succumbs to the economic downturn.
The UK market also continued to fall sharply with sales down by almost a quarter in October. The outlook for the UK market in 2009 remains poor, JD Power said.

Sales in France, like those in Germany, are also now weakening from a position of only mild decline.

Spanish and Italian car sales reported large year-on-year falls. However, there are signs that a bottom may be forming in both countries, though a weak 2009 performance still appears likely.

JD Power is now forecasting that the West European car market will reach 13.63m units in 2008 (a decline of 7.9% on 2007). The market is then projected to slump a further 10.5% 12.2m units in 2009.