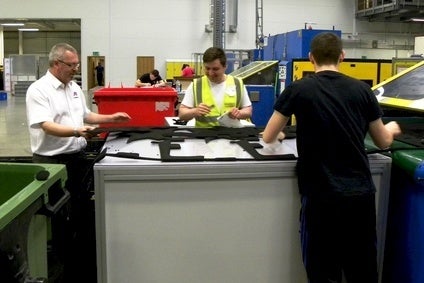 A small UK automotive supplier of insulation materials to Bentley, Jaguar Land Rover, Honda and VW Group has doubled its staff since moving into new premises last year as part of a GBP6m expansion programme. Automotive Insulations (AI), part of the British owned Autins Group, has taken on around 80 staff over the past 12 months, both on the shop floor and in administrative positions to help meet growing demand from vehicle manufacturers.
The company develops and manufactures lightweight thermal and acoustic parts for the automotive industry, including the expanding commercial vehicle market. AI tripled production space when they moved with 87 staff to new premises in Rugby in 2014. A year on, the company employs over 160 staff, including temporary workers.
As part of the expansion programme, AI has also invested in new technology and machinery which allows the company to carry out a wide range of testing and development processes in house.
"Our larger purpose built premises not only enabled us to invest in new equipment; it also allowed us to increase production and accommodate more staff." said group CEO Jim Griffin. "Having the extra space has created more flexibility so we can take on staff as and when needed, meaning we can respond to fluctuations in the market more effectively."
After the summer holiday period, AI wants to recruit up to 30 additional production staff to meet demand from customers such as JLR, VW and Bentley. Positions include a material planning and logistics manager, a purchasing manager and machine operatives.
AI has recently put forward two apprentices for an apprenticeship programme for maintenance engineers run by Toyota. Other training initiatives include putting five staff through a course to qualify them to teach, both in-house and externally in addition to training four members of staff as NVQ assessors. The company is also rolling out a project of intensive training predominantly for warehouse and despatch staff and some production operatives including areas such as LEAN, team leader training, management training and business improvement techniques.
"We have invested over GBP2m in new equipment but are also committed as a company to investing in our people as they are the most important resource that we have," said Griffin. "We aim to be both a supplier and an employer of choice in the manufacturing industry and are proud of the extensive training programme that we have in place. The industry needs skilled workers now more than ever."
The UK automotive sector has enjoyed 40 consecutive months of growth to June 2015 with an estimated 4,500 new jobs created so far this year. British built cars are in demand, making up the highest proportion of newly registered cars for five years whilst exports are steady, accounting for 11.8% of all UK exports in 2014. The commercial vehicle market is also performing well with a 32% increase in output so far this year.