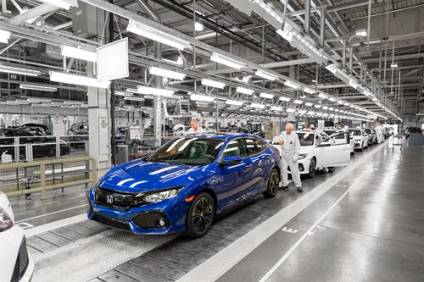 New car production in the UK fell by 9.7% in May according to data released by the SMMT. However, the SMMT noted that carmakers were adjusting schedules in the month ahead of new model introductions.
The trade association also pointed out that although the 136,119 new cars made last month represent a fall of almost 10% on last year, the comparison with last year is against a very strong month when output increased by over a quarter (May 2016 was the highest May total in more than a decade).
Car exports in the year to date remain marginally above last year at 576,556 units, a 0.8% increase year-on-year, although production for overseas markets fell -9.0% in May. Almost 80% of all cars made in Britain are exported, with more than half going to Europe.
Production for the home market fell -12.8% in May, down -8.1% in the year-to-date, with 153,199 cars destined for UK showrooms. Despite this, nearly 730,000 new cars have been made in Britain in the first five months of the year, following the record performance seen in Q1.
Mike Hawes, SMMT Chief Executive, once again highlighted the need for open trade links with Europe. He said: "After a record start to the year, car production in the UK has slowed as production lines gear up for a range of new models. Global demand is strong and exports remain the driving force for British car production volumes in the UK. Maintaining our current open trade links with Europe, our biggest market, and further developing global markets is vital for this sector."
Stuart Apperley, Director and Head of UK Automotive at Lloyds Bank Commercial Banking, pointed to the positive impact of higher demand in Europe this year.
"The rebound in European car sales is encouraging for UK manufacturers, given the majority of vehicles produced here are destined for drivers on the Continent," he said.
"We've got key manufacturers like Honda, Nissan and Jaguar Land Rover with new models out that are selling well, and strong demand in Europe is providing a cushion against weakening demand at home."
Apperley is also upbeat on prospects for UK-based suppliers. "Looking at the automotive supply chain as a whole, it's a real positive that we're seeing a higher percentage of UK manufactured parts going into vehicles produced here," he said. "The challenge is whether we have the engineering base to sustain and grow a bigger industry, particularly when the sector already faces such a battle for talent.
"UK Automotive needs to continue to invest in developing its future engineers, which is why we're providing GBP1m each year over five years, 2015-2020, to the Lloyds Bank Advanced Manufacturing Training Centre in Coventry, supporting over 1,000 apprentices."