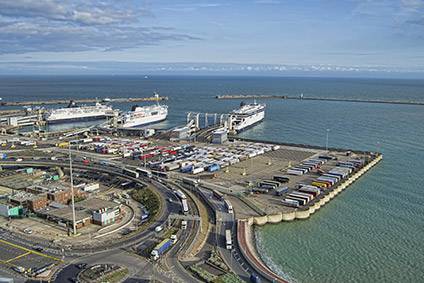 London and Paris have reached agreement to re-open the UK-French border to allow accompanied freight and some passenger services to resume between the two countries.
The breakthrough follows chaos at one of the UK's most significant freight arteries at the Port of Dover in South East England, after France's decision to close its UK border for 48 hours to accompanied freight traffic, following the revelation by British Prime Minister, Boris Johnson, of a more virulent strain of COVID-19.
Pictures have emerged of more than 1,000 lorries parked on the runway of Manston Airport in Kent, while charitable organisations such as the British Salvation Army and the Sikh community have been delivering hot food to drivers, many of whom are concerned about reaching home for Christmas.
Such was the plight of the drivers, even Ramsgate Football Club in Kent has also delivered pizzas to truckers stranded by the French blockade.
Following the protocol, rail, air and sea services are resuming this morning (23 December) with all people travelling from the UK into France required to show proof of a negative coronavirus test taken within the previous 72 hours.
The protocol agreed with The French Government will be reviewed on 31 December, but could run until 6 January. All lorry drivers, irrespective of nationality, will require a lateral flow test.
This can detect the new strain of COVID-19 and provide results in around 30 minutes, rather than the 24 hours required after a PCR test. The French government will also carry out sample testing on incoming freight to the UK.
The UK government is continuing to strongly urge hauliers not to travel to Kent until further notice, while a mass testing programme for HGV drivers starts to alleviate congestion at ports.
Operation Stack – a scheme to relive congestion near Dover – remains in force along the M20 motorway while lorry drivers in Kent are continuing to be directed to the Manston holding facility.
The agreement notes admittance into France will only be granted to those travelling for urgent reasons, including hauliers, French citizens and British citizens with French residency.
Earlier this week, British freight association, Logistics UK, urged shoppers not to panic buy as reports circulated of supermarket shelves going bare in some instances as consumers factored in a trilogy of COVID-19, Brexit and far tighter restrictions surrounding Christmas gatherings.
"I am pleased we have made this important progress with our French counterparts," said UK Secretary of State for TRANSPORT, Grant Shapps. "This protocol will see the French border reopen to those travelling for urgent reasons, provided they have a certified negative COVID-19 test.
"We continue to urge hauliers not to travel to Kent until further notice as we work to alleviate congestion at ports."
The Transport Secretary also announced the temporary relaxation of drivers' hours for hauliers to help drivers pass through UK borders safely, including via Kent, during the coming weeks.