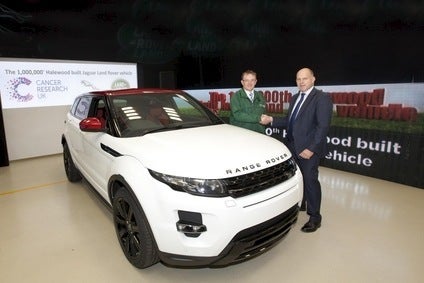 Data released by the SMMT shows that there were 132,570 cars manufactured in the UK July – a rise of 2.8%.
Cumulative car production to the end of July this year stand at 923,884 units, some 3.4% ahead of the same period last year.
SMMT noted that July's result takes exports to 5m units since 2010, the best performance of any decade. The UK's automotive trade association also said that the average car exported today is worth over GBP20,600, compared to just GBP10,200 in 2004, a comparison that reflects the recent success in global markets of premium makers with UK production bases.
"The UK automotive industry continued its renaissance in July, with the month marking five million car exports since 2010," said Mike Hawes, SMMT Chief Executive. "This is a major milestone and testament to the burgeoning reputation of UK automotive excellence and demand for British-made cars. Significantly, UK car export values have doubled over the past decade – reflecting the diversity of the products we make and proving the sector's worth as a global investment opportunity."
John Leech, Head of Automotive for KPMG in the UK, said that the climbing trend for UK car production is expected to continue.
"UK car production continues to climb steadily, a trend we expect to continue for the next three years bolstered by exciting new launches such as the Jaguar XE and the new Vauxhall Astra. The figures show the price of cars exported by the UK has doubled in the past decade underlining how the UK has successfully moved up the value-chain to become predominantly a producer of luxury cars and higher-priced volume cars such as the Nissan Qashqai crossover. Other Western European countries will be looking enviously at the UK as these vehicles provide a stable and profitable platform giving suppliers the confidence to invest, which they are doing."
Leech also noted the positive impact that auto industry exports are having on the UK's trade balance.
"The price of cars imported has increased only by 14% over the same period which when compared to the doubling in the price of exports means that the balance of payments in cars has swung from a deficit of £8 billion a decade ago to a surplus today. By 2017 we expect the surplus on the balance of payment for vehicles to have soared to £8 billion. This truly represents a remarkable turnaround in fortunes and is due to the strength of the UK's vehicle brands and the most effective government-industry collaboration of any sector here in the UK."
UK Car Production
| | | | | | | |
| --- | --- | --- | --- | --- | --- | --- |
| Car output | July 13 | July 14 | %ch | YTD 13 | YTD 14 | %ch |
| Total | 128,946 | 132,570 | 2.8% | 893,336 | 923,884 | 3.4% |
| Home | 28,895 | 29,589 | 2.4% | 191,649 | 195,444 | 2.0% |
| Export | 100,051 | 102,981 | 2.9% | 701,687 | 728,440 | 3.8% |
Source: SMMT