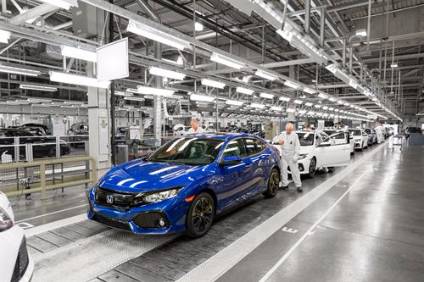 British car output fell in August as domestic and overseas demand for production declined.
According to figures released today by The Society of Motor Manufacturers and Traders (SMMT), 103,232 vehicles left UK factories last month – a fall of -5.3%.
Production for the domestic market dropped -4.4% to 26,594 units, while output for overseas customers was down -5.6% to 76,638. 1,106,285 vehicles have been produced in the first eight months of the year, an overall decline of -1.9%, and the domestic market for production has been down in seven out of eight months.
Mike Hawes, SMMT Chief Executive, said: "It's common to see fluctuations during the summer months, as output varies according to the timing and duration of holiday factory shutdowns. However, the continuation of the longer term downward trend in domestic demand is a concern for production across the UK so it is vital for the future health of this sector that the current uncertainty around Brexit is removed and consumer and business confidence restored."
Analysts appear to be taking a relatively sanguine view of current trends, although Brexit uncertainties are an ongoing concern. Stuart Apperley, Director and Head of UK Automotive at Lloyds Bank Commercial Banking, said: "There are a number of new models now in full production at UK plants, including the popular Honda Civic, Range Rover Velar and Land Rover Discovery.
"With the new Nissan Leaf also confirmed to be produced in Sunderland, the outlook for UK production is fairly positive. Uncertainty surrounding Brexit is still having an impact on investment, but strong European demand and the arrival of the September plate should keep production levels pretty healthy over the next couple of months."