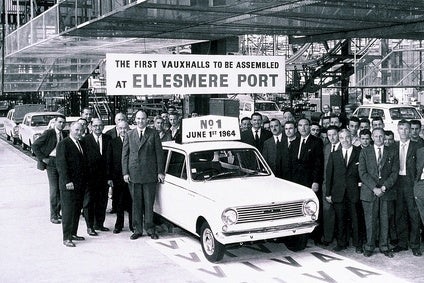 The UK car market continues to turn in high monthly numbers, but it is topping out according to Vauxhall MD Tim Tozer.
The head of GM's UK-only brand was speaking to just-auto at the SMMT's annual driving day for journalists and VIPs. The UK car market was a shade under 2.5m units last year and has continued to show growth this year (it is 6.4% up against last year in the first four months).
"The UK car market is looking pretty healthy, but there are indications that the market is topping out now," insists Tozer. "The economic background in the UK is pretty favourable and the industry has performed well to keep the market at such a high level, but it's hard to see the market going higher. After the growth we have had, we are not seeing easy growth now; it's a very competitive and tough marketplace."
Tozer believes that the UK car market's growth and the contrast with depressed market conditions on the European continent are linked. "The rest of Europe is coming back, but it's coming back slowly," he says. "Manufacturers there have taken advantage of the UK market's relative strength and also a favourable exchange rate to aggressively target the UK market for volume. The UK is a big market, with a very solid structure and it's also very consumerist. The industry here has worked very well to get the right packages in place for consumers, especially when you look at things like PCPs [personal contract purchase plans] for retail customers and developing favourable ownership cycles. You can be in a very good car now for just GBP150 a month."
Tozer also believes that the UK interest rate outlook has lately become more favourable, especially significant due to the high proportion of new car sales secured on finance deals. "Not so long ago the talk was of interest rates moving up, with a lot of speculation about when that would be and the form it would likely take," he says. "But as inflation has fallen away [this week the UK's rate of price inflation turned negative to -0.1%], so the prospect of interest rate rises has moved further out."
Turning to Vauxhall's prospects Tozer highlights a number of strengths for GM's UK-only brand.
"Firstly, we are obviously British," he points out. "We know the difference between the M25 and M62! [two UK main highways – the M25 is London's orbital highway and the M62 is in the north of England] Being an obviously British brand with all its history and one that manufactures vehicles here is a real strength for us in the UK market. Second, we are very well placed with new product in the right segments. Small cars are a big plus right now with the Viva launching, the new Corsa and the Adam – each of those models very effectively hitting a distinct small car market segment."
Tozer expects Vauxhall to sell around 7,000 units of its Viva city car (it is sold as the Karl in European markets served by the sister Opel brand) this year, rising to an annual running rate of around 20,000 units.
"And cars like the Mokka and Insignia are pushing boundaries for our brand and how it is perceived," he claims. "With the new Astra [next Astra will be revealed at the Frankfurt IAA in September, with Vauxhall due to begin production of the five-door hatchback soon after] we will really be filling out an exciting range."
See also: EXCLUSIVE: UK: Ford sees low interest rates as key to UK market stability
Blog post: Brush with Vauxhall history – original Viva, Job 1