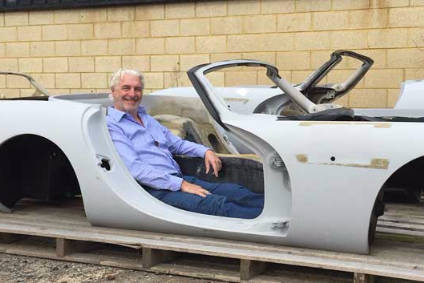 British sports car brand TVR is to produce a new car at a new manufacturing facility in Ebbw Vale Enterprise Zone, Wales.
The TVR investment, which is receiving Welsh Government support, is set to create 150 jobs. Production is set to commence in 2017 with plans to bring four new models to market over the next 10 years.
The First Minister of Wales said: "This is yet another fantastic high profile investment for Wales and a great boost for our automotive sector. TVR is another iconic and much loved, world-class brand that still commands a strong and loyal international following. I am delighted the next generation of TVRs will proudly bear the label Made in Wales.
"Today's news follows hot on the heels of the Aston Martin announcement and sends out a strong, clear message that Wales is the location of choice for advanced manufacturing. It also illustrates that our pro-business approach is delivering results, attracting significant investment and creating high quality jobs and it is another huge boost for Wales, for our automotive sector and for our skilled workforce."
Wales Economy Minister Edwina Hart also highlighted overall investment in the automotive sector in Wales. "We already have a thriving automotive component sector in Wales and now we will have two car production facilities," she said. "This investment speaks volumes about the high level skills we have in advanced manufacturing and I am delighted the company is to create a significant number of new jobs in Blaenau Gwent.
"TVR is a very welcome addition to the thriving, dynamic sector in Wales where there are more than 150 companies involved in the automotive supply chain, employing around 18,000 people and generating over GBP3bn to the Welsh economy."
TVR Chairman Les Edgar said: "This is a fantastic opportunity both for TVR and the Welsh Government. South Wales is becoming a major hub for automotive and motorsport technology and development and I am delighted TVR is investing here.
"We have a sports car project that has attracted global approval and excitement, and we are delighted that the Welsh Government wishes to become a part of an exciting new era for TVR.
"The Welsh factory will be busy fulfilling orders that already run through to the end of 2018, and with our ambitious plans for the future we believe that Wales provides the right environment to make the project a success."
The new TVR project, which was announced early 2015, has already secured in excess of 350 deposits for its niche new sports car, which features an "innovative, ground-effect chassis", created by Formula One designer Gordon Murray. It will be manufactured using his revolutionary "iStream" assembly process.
The TVR brand was acquired in 2013 by the consortium led by Les Edgar and the design of the first new vehicle is still under wraps with plans to unveil it towards the end of the year.
TVR will operate in the niche low-volume high value market sector with peak production reaching around 2,000 cars a year by 2022 with an initial marketing focus on the UK and selected European markets.
TVR is currently considering a number of potential locations within the Ebbw Vale Enterprise Zone area.