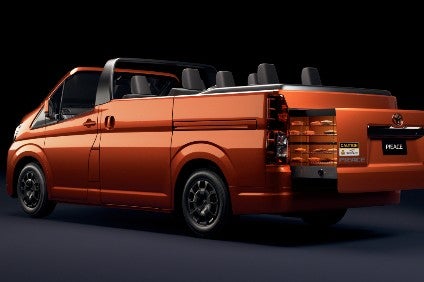 Amongst the various April Fools Day gag press releases – special mention to Jaguar Land Rover for its 'EV charge point 15 miles from the nearest road on the Scottish island of Skye' and Juice Technology's 'extended version of the wall-mounted Juice Charger 2 with an integrated juicer' – we particularly liked Toyota Australia's 'PieAce' – a convertible version of the popular HiAce van/people carrier complete with built-in pie warmer.
In a spoof announcement – heavily laced with 'this is an April Fools joke' warnings – the automaker's Antipodean arm promised "a limited run of just 2,019 of the all-new HiAce Convertible would be made especially for the Australian market".
The HiAce Convertible would come with an optional extra built-in pie oven, called 'PieAce', disguised neatly behind the rear tailgate.
The PieAce includes a fan-forced oven and grill with four cooking racks and reaches a top temperature of 250 degrees Celsius.
A spokesman said the PieAce made 'smoko' [tea break] a breeze.
"The PieAce brings a whole new meaning to the term 'meals on wheels'. This oven is innovation at its finest. Our customers know that we are always pushing the boundaries of what's possible, and the PieAce is taking the HiAce Convertible to the next level," he said.
"The PieAce allows busy tradespeople and couriers, who are often on the road all day to nourish their bodies with a hearty Aussie favourite, the meat pie.
"It works a lot like a slow cooker. All you do is pop an uncooked pie or sausage roll in the PieAce, set it to the desired temperature using the buttons on the steering wheel, and away you go.
"An alarm on the dash lets the driver know when the pie is cooked and ready to eat. When it's safe to do so, the driver can bring the HiAce to a complete stop to open up the rear tailgate to access the retractable PieAce."
Meanwhile, Lexus Australia said it had "extended its class-leading Encore ownership programme to accommodate a special cohort of passengers doggedly ignored by rival brands.
"Enpaw, a new chauffeur and accommodation service available on all Lexus models, allows four-legged canine friends to indulge in the finest four-wheel luxury by transferring them to a luxury boarding kennel when their owners take a holiday.
"With owners experiencing the unrivalled benefits of Encore, allowing them to take advantage of exclusive restaurant and accommodation offers, dogs will finally be let off the leash to enjoy the same level of Lexus-luxury lifestyle courtesy of Enpaw."