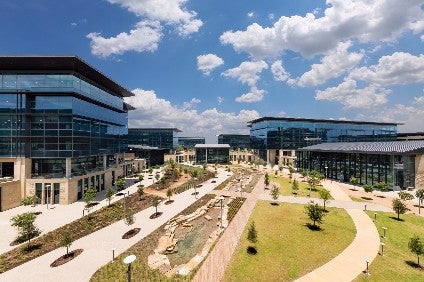 Toyota Motor North America held the official opening of its new headquarters in Plano, Texas, on Thursday (6 July).
The automaker announced the move of about 4,000 jobs – primarily from Torrance, California – back in April 2014 and broke ground in Plano, north of Dallas in January 2015. Its exit from California mirrored rival Nissan's US headquarters relocation from Gardena, also in the Los Angeles region, to Nashville, Tennessee, in 2006 though Toyota reckoned its move was for different reasons.
"The opening of our new headquarters in Plano is an extraordinary next step in Toyota's 60-year journey in the United States," said Jim Lentz, CEO of Toyota in North America, in a statement. "With team members from four different companies together in one campus location, we believe this will inspire greater collaboration, innovation, and faster decision making as we turn to and lead the future of mobility, all with an eye on our customers."
Inevitably, Lentz added: "We appreciate the support from President Trump of our continued commitment to investing in the US and sustaining American jobs."
Congratulating Toyota on its grand opening, the company received a written statement from the White House, signed by the president.
Three years ago, the automaker announced its "One Toyota" initiative to create more unified operations in North America, in part, by bringing together its quality engineering, sales, marketing, financial services, and corporate functions in one location.
Since then, the company has spent about US$1bn on the project to build its new corporate campus on 100 acres in Plano and move thousands of workers and their families from California, Kentucky and other parts of the US to North Texas. With construction nearly complete, occupancy began in late spring, and an average of a couple hundred workers per week are moving in, which is expected to continue in phases until the end of December.
The 'campus' includes seven buildings and a large central courtyard planned as the heart of social and business functions – including dining, fitness, and conferencing facilities.
Exterior landscaping includes drought resistant plants and environment measures include a 8.79 megawatt array of about 20,000 solar panels, a commitment to use only renewable energy, purchasing all electricity not generated by the solar panels from wind generated by Texas farms and a A rain water harvesting system, up to 400,000 gallons, for irrigation.