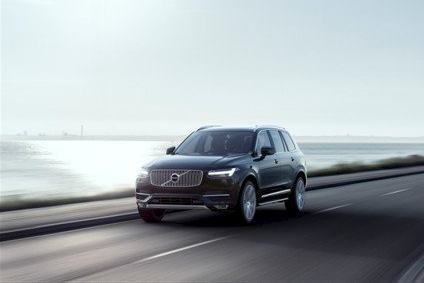 Volvo says a third shift at its Torslanda plant near Gothenburg has started, creating nearly 1,500 new jobs in the company's Western Sweden home region.
The introduction of the additional night shift comes as Volvo has now begun production of the XC90 seven-seater SUV, for which it has already received nearly 30,000 pre-orders.

Volvo Cars upgraded its need for extra staff from an earlier number of 1,300 to nearly 1,500 new employees, due to an increase in line speed at the Torslanda plant.
In addition to the new workers at Volvo Cars, the expansion is expected to generate more new jobs at suppliers and other businesses in Gothenburg and Western Sweden.
Following the latest expansion, Volvo Cars says it has around 17,300 employees in Sweden, of which 13,500 are in Gothenburg, where 4,800 people work at the Torslanda plant.

"I am very pleased by the positive reception of our new XC90 model and that we can welcome 1,500 new employees to the Torslanda plant to produce this new car", said Volvo president and CEO, Håkan Samuelsson.
"This is just the start – we will launch a whole range of new cars in the coming four years – many of which will be produced here in Torslanda."

Sweden's major metalworking union, IF Metall, told just-auto previously the third shift at Torslanda was a direct result of collaborative work with organised labour.
"That [new jobs] would not have been possible if you had not founded that employment in our new working hours agreement," said IF Metall chairman, Anders Ferbe.
"This flexibility agreement – we know it is necessary to be able to keep up with competitiveness. Now this is possible to take a step forward."
The XC90 is the first model based on Volvo Cars' in-house developed Scalable Product Architecture (SPA), which will be the base for a series of upcoming Volvo models.
The new platform, as well as the expansion in the Torslanda plant, are part of Volvo Cars' investment programme of SEK75bn (US$8.9bn) in new products and production capacity.
The Torslanda plant will produce several of the new models on the SPA platform, with Volvo maintaining there is also a long-term need for the expansion.
The plant currently produces the Volvo S60, S80, V60, V70, XC70 and XC90 models.