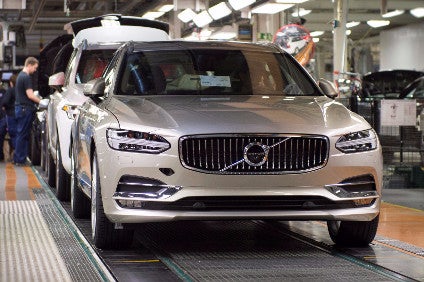 Volvo Cars' main manufacturing plant in a suburb of Gothenburg will be brought back online on Monday. Torslanda powered down on 26 March.
In a statement, the company notes that the decision to reopen followed "…a dialogue with relevant labour unions" and that workers based at the adjacent headquarters buildings would also return to work on 20 April. Both sites have been prepared in recent weeks "to be as safe as possible for people to return in a way that safeguards their health".
"We have a responsibility towards our employees and our suppliers to restart operations now that the situation allows it," said Håkan Samuelsson, chief executive. "The best thing we can do to help society is to find ways to restart the company in a safe way, thereby safeguarding people's health and their jobs."
In contrast to its parent company's compulsory screening of all workers at plants in China, Volvo's statement notes that temperature and pulse oximeter (tests the amount of oxygen in the blood) checks will be "offered" at main entrances.
The Ghent plant in Belgium will also reopen on Monday 20 April, but at a reduced rate of production. Ridgeville in the southern United States is not due to be restarted until Monday 11 May. As this site makes only the S60 and built 27,979 examples of it in 2019, any delay to that date will not greatly affect Volvo's global sales or production.
Production of Volvo models at the Luqiao District, Daqing and Chengdu factories in China restarted some weeks ago.