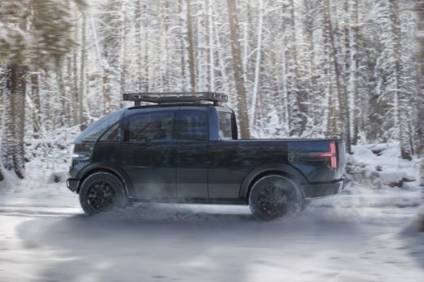 Los Angeles based electric vehicle startup Canoo has debuted its fully-electric pickup truck during the Motor Press Guild's Virtual Media Day (VMD) in partnership with Automobility LA.
It says the production version of the pickup truck will open for preorders in Q2 2021, with deliveries beginning in 2023.
Canoo says the pickup truck is the third vehicle that will be based on the company's proprietary multi-purpose platform architecture, enabling an 'accelerated development timeline'.
Canoo maintains that its EV platform functionally integrates all the critical components of an electric powertrain to be as flat and efficient as possible. Traditional EV platforms have power units, shock towers and mechanical steering columns that protrude into the vehicle and take up space, Canoo says. By incorporating steer-by-wire and other space-saving technologies, Canoo claims its thin platform, with no need for an engine compartment, allows the company to offer a flatbed size 'comparable to America's best-selling pickup truck [Ford's F-150 – ed] on a smaller footprint'. It also says this makes the vehicle easier to manoeuvre and more convenient to drive and park in any terrain.
Canoo designed its pickup truck to be the most cab-forward and space efficient on the market, with massive cargo capacity on the smallest footprint possible. Canoo also says that the flexible platform and steer-by-wire meant the passenger compartment was able to be shifted forward to maximize driver visibility.