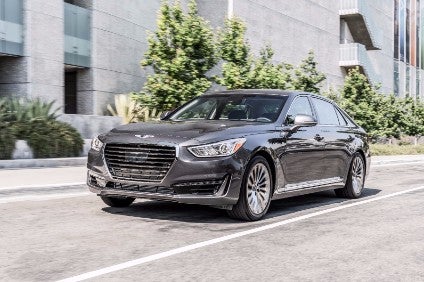 Hyundai Motor Group has suspended production on a number of assembly lines in South Korea due to component shortages from some of its Chinese suppliers following last month's coronavirus outbreak, according to local reports.
Among the factories reportedly affected by suspension is the Genesis brand No 5 plant in Ulsan and the automaker was unable to estimate when production would resume.
Hyundai reportedly also is talking with unions about halting operations at other factories in South Korea.
The extent of the closures will depend on further developments following the coronavirus outbreak in China.
Reports at the end of last week suggested Hyundai had temporarily cancelled overtime at its Ulsan and Jeonju plants as a precautionary measure.
Over the weekend Hyundai also suspended production at its Palisade SUV plant in China due to component supply disruptions while other assembly plants in the country were also expected to be affected.
In an email message to workers at Ulsan plants on Monday, Hyundai's vice-president in charge of the plant, Ha Eon-tae, described the suspension of "certain car assembly lines in Ulsan as inevitable with South Korean parts suppliers in China having to comply with Chinese government restrictions on plant operations amid the coronavirus scare".
Kia Motors began reducing output at plants in Hwaseong and Gwangju in South Korea this week for the same reasons, according to local reports citing union sources.
Hyundai Motor Group has been reeling from a sharp fall in sales in China over the last few years as a result of a diplomatic spat over its deployment of the THAAD US missile defence system in 2017 and also due to the sharp market decline last year.
Combined Hyundai and Kia sales in China fell by 22% to 909,000 units last year from 1,161,000 units in 2018.
Separate reports at the end of last week suggested Ssangyong was planning to suspend operations at its in Pyeongtaek assembly plant in South Korea from 4 to 12 February due to the shutdown of suppliers in China.