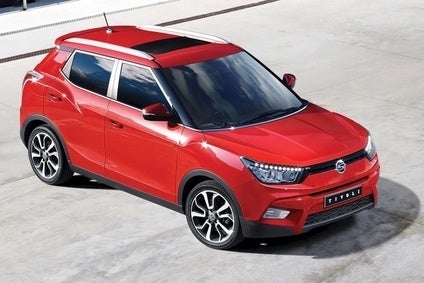 Domestic sales by South Korea's five main automakers jumped 11.5% year on year to 135,218 units in June, from 121,221 units in the same month last year, according to data released individually by the vehicle manufacturers and compiled by just-auto.
The data does not include sales by the low volume commercial vehicle manufacturers, including Tata-Daewoo and Daewoo Bus Corporation, which typically account for less than 2% of the domestic market combined.
The strong home market performance was helped by a 25 basis point cut in the Bank of Korea's benchmark interest rate to 1.75% in March, with sales driven higher by strong demand for SUVs and MPVs. Cumulative first half domestic sales increased 3.7% to 732,733 units, from 706,773 in H1 2014.
Global sales among the country's 'big five' automakers were just slightly higher at 733,823 units in June, compared with 733,656 units a year ago, reflecting mainly a decline in Hyundai output in key overseas markets such as China and the US.
Cumulative global sales in the first half of 2015 fell 2.3% to 4,414,040 units from 4,517,712.
Hyundai Motor's global sales declined by 1.2% year on year to 408,026 units in June, after an even sharper annual drop – of 6.2% to 389,299 units – in the previous month. This reflected weak sales in some key overseas markets which more than offset positive domestic sales. Cumulative global sales in the first half of the year fell 3.2% to 2,416,626 units, from 2,496,563 a year earlier.
Hyundai's domestic sales increased by 4.8% to 62,802 units in June, from 59,915, reflecting its high exposure to the country's weak passenger car market and rising competition from the smaller, more nimble players.
Its passenger car sales fell 4.3% to 30,572 units in June while SUV and commercial vehicle volume jumped 17% and 14% respectively. Overall domestic sales declined 3% to 336,079 in the first half of the year, reflecting particularly weak sales earlier in 2015.
Overseas sales fell 2.2% to 345,224 units in June, mostly reflecting weak local output in the US and China. Exports from South Korea rose 11.3% in June despite continued pressure from the strong won compared with many overseas currencies. Total first half sales were 3.2% lower at 2,080,547 units.
Kia Motors' global sales fell 1.6% to 241,275 units in June compared with 245,234 units a year earlier, reflecting weak demand in some key overseas markets. Cumulative first half global sales were 2.6% lower at 1,506,797 units.
The company's domestic sales jumped by 26.8% to 45,010 units, from 35,502 a year earlier, thanks mostly to the continued popularity of the Sorento and Sportage SUVs.
Overseas sales fell by 6.4% to 196,265 units, from 209,732 previously, with weak sales in key markets, including Russia, more than offsetting particularly buoyant demand in North America. The strong won has made competition from the Japanese much tougher, particularly in markets with weak currencies.
Kia's best selling model overseas last month was the new Rio compact passenger car, which is very popular in China, followed by the Sportage and Cerato (K3) models.
GM Korea's global sales increased by 7.3% to 55,186 units in June, compared with year earlier sales of 51,445 units. Total first half sales fell 5.9% to 307,879, reflecting the parent company's ongoing efforts to restructure its Chevrolet production base in favour of low cost countries.
Domestic sales increased 0.8% to 12,233 units in June, from 12,132, while exports of built up vehicles rose 9.3% to 42,953 units after many months of sharp declines.
Renault-Samsung's global sales jumped by close to 48% to 16,964 units in June, from 11,471 a year earlier, bringing the cumulative six month total to 112,992 units – up by over 80% year on year.
Overseas sales more than tripled to 10,211 units in June, thanks to the recent launch of exports of the Renault Rogue, while domestic sales fell by close to 21% to 6,753 units.
Ssangyong Motor, owned by Mahindra & Mahindra, reported a 3.8% decline in global sales to 12,372 units in June, from 12,858 units a year earlier, reflecting weak demand in some key markets. Cumulative global sales fell by close to 7% to 69,578 units.
Domestic sales jumped by over 63% year on year to 8,420 units, helped by the recent launch of the new Tivoli compact SUV. Overseas sales fell by close to 48% to 3,952 units, with demand in markets such as Russia and Ukraine particularly weak.
South Korean carmakers: domestic/overseas sales by brand, June 2015
| | | | |
| --- | --- | --- | --- |
| Brands | Domestic | Overseas | Global |
| | 62,802 | 345,224 | 408,026 |
| Kia | 45,010 | 196,265 | 241,275 |
| GM Korea | 12,233 | 42,953 | 55,186 |
| Renault-Samsung | 6,753 | 10,211 | 16,964 |
| Ssangyong | 8,420 | 3,952 | 12,372 |
| Total | 135,218 | 598,605 | 733,823 |
Sources : www.AsiaMotorBusiness.com, industry sources.