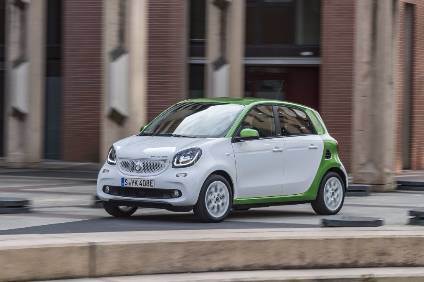 Daimler's 'smart' city car brand is launching its electric drive cars in the UK car market.
The cars are available in three body styles with up to 100-mile range, deliveries to commence from July.
Retail prices start at GBP16,420 for the smart fortwo electric drive (including OLEV grant of GBP4,500; total price GBP20,920 excluding grant). The forfour electric drive is GBP16,915 (GBP21,415 excluding grant), and the fortwo cabriolet electric drive starts at GBP18,650 (GBP23,060 excluding grant).
The brand claims to be the only one that offers all its models with either combustion engines or fully electric drivetrains.
The smart electric drive features an 81 hp electric motor powering the rear wheels via a single-speed gearbox. The electric drive has a range of up to 100 miles, while its maximum speed is electronically limited to 80 mph to maximise the range. The standard 7 kW on-board charger means the smart electric drive can be charged in 2.5 hours using a 16 A charger or just six hours via a standard three-pin household socket (20 per cent to 100 per cent). All models have a top speed of 81 mph and can travel from 0 to 62 mph in 11.5 seconds.
Every electric drive model also comes with charging cables for both domestic sockets and public charging stations; rear parking sensors; smart media system with satellite navigation; and an 'acoustic ambient sound generator'.
The sound generator creates an artificial engine sound when the vehicle is moving at low speeds to make its presence known to pedestrians and other road users.
Customers can also access the smart control app, which allows the user to view the vehicle's charging status, and pre-set the climate control via a smartphone.