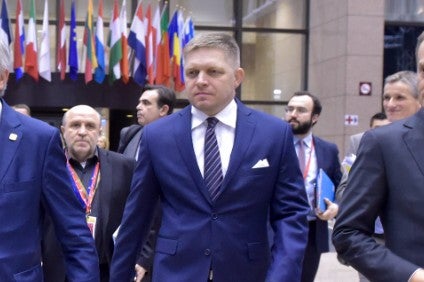 Slovakia's Prime Minister has waded into the start of today's (20 June) strike by Volkswagen workers at its Bratislava plant by publicly backing the mass walkout.
In a highly unusual move, Prime Minister, Robert Fico has criticised the wages paid to VW workers at the Slovak plant in the light of the Moderne union's claim for a 16% salary hike, a demand branded 'impossible' and 'absurd' by the German automaker
The issue has shot to the top of Fico's in-tray as VW Slovakia is the country's largest employer in the private sector with 12,300 staff and is the biggest company in the country. Despite most staff striking, 3,500 workers nonetheless still reported for duty this morning.
"Why should a company making one of highest quality and most luxurious cars with a high labour productivity pay its Slovak workers half or one third of the amount it pays to the same workers in western Europe?" said Fico in comments confirmed to just-auto by the Prime Minister's office in Bratislava.
Slovak television is carrying pictures of what appear to be thousands of striking workers demonstrating outside the Bratislava plant, but Volkswagen Slovakia is stepping up its own war of words with its unions, pointing out its improved pay offer.
"We regret we did not come to an agreement, despite the tentative higher bid submitted yesterday (19 June) by Volkswagen Slovakia," said a statement from the automaker sent to just-auto. "We are calling upon the labour union to take a conciliatory step towards a mutually acceptable agreement.
"The irresponsible demands required by the labour union, are putting the working positions of our employees at risk. We strongly believe the financial loss and loss of trust from the side of Volkswagen towards Volkswagen Slovakia will not have a negative impact on the future of our company."
Despite what appears to be a high percentage of workers downing tools, Volkswagen Slovakia maintains some staff did go to work, meaning production is currently running at the Martin and Stupava plants, without any restrictions.
The revised offer put on the table would see Volkswagen set a wage rise of 4.5% and a one-off payment of EUR350 (US$390) from 1 June this month and a salary increase of 4.2% from 1 January next year.
The duration of the collective agreement would last until 31 December, 2018.
The Prime Minister's office added to just-auto that Fico believed: " A strike is an acceptable form of workers protest, especially in the field of salary policy.
"Personally he would appreciate an agreement on salary conditions in Bratislava VW plant will be made as soon as possible."
VW's Bratislava plant is the exclusive source for the Volkswagen Touareg, Audi Q7, Volkswagen up, Skoda Citigo and SEAT Mii. It also produces bodies for Porsche Cayenne.
In addition, it makes underbodies and gearboxes for other VW Group brands, suggesting a strike could potentially disrupt VW Group's European production network more widely.
"We are a motor of our economy in Slovakia and the automotive industry is really strong here," a reliable source in the country added to just-auto as the Premier made clear his backing for a higher wage settlement.
Volkswagen Slovakia was not immediately available to comment on the Prime Minister's views.