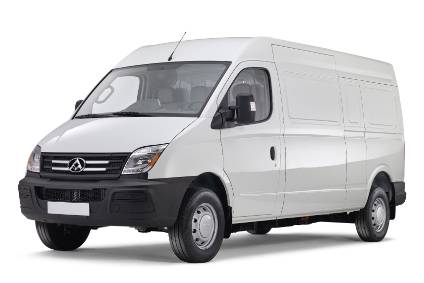 SAIC-owned brand Maxus has commenced delivery of its zero emission EV80 vans in Europe.
Maske Fleet in Germany is among the first leasing companies to offer the fully electric large panel van to fleet customers, with the operator recently delivering a fleet of EV80 vans to a Hamburg-based courier service.
Maxus says the Maxus EV80 van is the only fully electric van in its class on European roads, with initial deliveries to customers in Germany and Austria. Other Europe markets will follow soon, as Maxus accelerates its Europe-wide growth plans, with developments in Benelux, Norway, Sweden, Denmark, Italy, France and Spain due to be 'revealed shortly', Maxus says.
SAIC Mobility Europe, a division of SAIC, starts its European activities with the introduction of the Maxus light commercial vehicle brand. Ahead of its full Europe-wide launch in 2019, Maxus is establishing partnerships with large organisations and major fleet operators that are looking to reduce their fleet emissions and vehicle operating costs.
Pieter Gabriëls, Managing Director of SAIC Mobility Europe, said: "With up to 200km real-life range, zero exhaust emissions and short charging time the Maxus EV80 is an ideal solution for businesses operating in urban environments. We are analysing real-world performance data to demonstrate how businesses can successfully integrate fully electric large van into their fleets, as we ramp up deliveries and fully launch the brand across Europe in 2019."
Andreas Maske, CEO of Maske Fleet GmbH, said: "With many cities across the continent planning strategies to significantly reduce air pollution, it's vital that businesses have a viable solutions for zero emission fleets. By offering Maxus EV80 electric vans we can help our customers reduce their carbon footprint and allow them to meet strict emissions regulations, while reducing the operating costs."
The Maxus EV80 is available as a panel van and a chassis cab. The panel van features a cargo area length of 3,300 mm, width of 1,770 mm and height of 1,710 mm, resulting in a total volume of 10.2 m3, accessible through wide-opening rear and side doors. The maximum payload capacity is 950 kg. The chassis cab is similarly competitive in its capabilities and offers a maximum towing mass of 750 kg.
The EV80 vans have a range up to 200km and a charging time of just two hours, it is claimed.