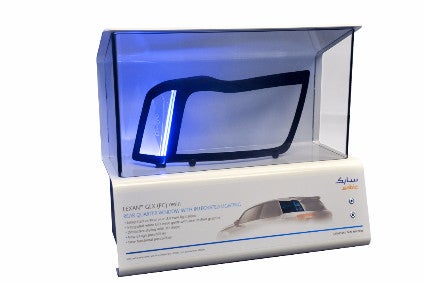 Sabic says it is working on developing car window technology with integrated lighting features.
The supplier first disclosed its efforts to develop polycarbonate (PC) windows with integrated lighting at the International Symposium on Automotive Lighting (ISAL), in Darmstadt, where it showcased a rear quarter window produced through two-shot injection moulding with Lexan and Cycoloy resins, featuring two sets of decorative lighting components: two blue LED light pipes and a white LED light guide with white laser-etched graphics.
While those elements are largely decorative, Sabic added integrated lighting can serve a variety of functional purposes.
To illustrate one potential use, SABIC released a concept sketch in which a lighting component built into a lightweight polycarbonate window indicates the battery status of an electric or hybrid vehicle, from green for fully charged to red for critical condition.
This feature could allow the driver to understand the state of battery charge without any need to enter and start the vehicle.
"Our customers are always looking for new ways to surprise consumers," said Sabic automotive business senior director, Scott Fallon. "Combining PC glazing with lighting technologies opens up a whole new range of possibilities to help them do this.
"Our long-standing expertise in each application space and our capabilities to support product creation lend themselves to help automakers develop solutions and set trends in vehicle design."
Beyond using a car window to indicate battery charge status, Sabic says lighting features in windows could also enable new styling and branding solutions, as well as other kinds of information.
Possibilities might include:
Adding signature lighting or side markers on window surfaces to help better distinguish vehicle models to enhance consumer appeal
Using coloured light for brand enhancement.
Using window lighting to put on a show outside the vehicle when parked, including projecting patterns or imagery on the ground [BMW's new Mini Clubman uses lighting tech in the driver's side door mirror to project the brand logo on to the ground when the car is unlocked – ed]
Displaying warning messages
Displaying dynamic turn indicators and hazard light signals
Enhancing nighttime safety
Allowing animated welcome and goodbye gestures
Adding ambient lighting features to enhance interiors
Automakers already add lighting touches to various vehicle components: door handle pockets, side mirrors, along the interiors of doors, instrument panels, centre consoles and cup holders.
Sabic said its materials are used in a range automotive lighting components from fog lamps to light emitting diode (LED) designs for front, rear and interior lighting, and claimed they deliver a wide range of benefits, including high heat optical performance, enhanced aesthetics, weight and cost savings.
The supplier's range of materials for automotive lighting include various grades from its Lexan, Ultem, Valox and Stamax resin product lines.