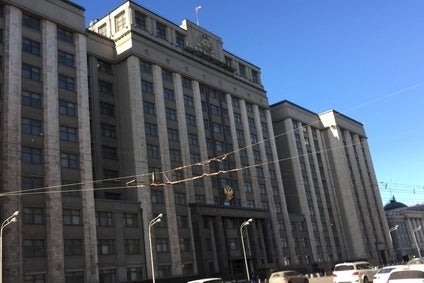 Russian government officials say they expect localisation levels of components to significantly increase in the next four years as a depreciating Rouble drives overseas companies to source domestically.
The automotive market has witnessed successive steep falls in sales during the past year, but Moscow is attempting to halt the decline with a series of measures including RUB15bn (US$254m) of subsidies in six months through the extension of the scrappage scheme and the imminent start of lower cost loans.
"It [localisation] will not happen tomorrow, not overnight, but maybe in four years we will see noticeable results in that area," Russia Transport Department director, Alexander Morozov told last week's Russian Automotive Forum in Moscow.
"The current situation is like a problem of chicken and egg. Business [es] don't want to invest until the level of localisation reaches the level they expect. The government provides support for these programmes
"We provide funds for composite materials, polymers [for example]. As for producing components, we have one programme in this area – this is Decree 640.
"We subsidise some of the costs for the loans used for modernisation, not just for OEMs, but to all automotive companies who manufacture anything for the automotive industry.
"The national currency has depreciated and this caused large, international concerns to shift their focus to drive levels of localisation."
AEB figures showed February sales plummeting 38%, with the Kremlin looking to boost numbers by 200,000 this year through its extension of scrappage and cheaper access to finance.
It is not yet known what the loan costs will be, but at current interest rates of 14%, themselves shaved 1% only recently, both business and individuals are finding it increasingly difficult to take out finance.
"The government is currently preparing to make a decision regarding low interest lending programmes," said Morozov. "The programme will be launched on 1 April and it is our target to reach almost 200,000 vehicles this year."
"We have certain priorities – we will continue to renew the fleet of vehicles and in Q1 we have allocated RUB10bn and for the second quarter we will allocate RUB5bn. With the new price levels, we will see a recovery of fleet renewal."