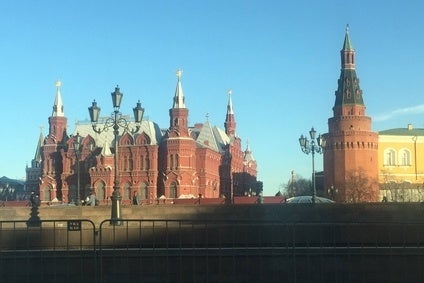 Russia's Transport Department says low interest lending will be made available in two weeks after discussing the programme with banks in a bid to boost the country's dramatically falling vehicle sales.
Moscow is taking the action after alarming February figures from the AEB showed sales cascading 38% and on top of several months of prolonged retraction as Russia stands in the teeth of a severe economic storm framed by international sanctions.
It is not clear at what figure the loans will be offered, but current interest rates in Russia are 14% after a 1% recent cut, making borrowing unaffordable for many.
The government is hoping the incentivised loans with RUB15bn (US$249m) of automotive subsidies to prolong the country's scrappage scheme and a boost for natural gas vehicles, will ease the steep fall in sales.
"The government is currently preparing to make a decision regarding low interest lending programmes," Transport Department director, Alexander Morozov told this week's Russian Automotive Forum in Moscow. "The programme will be launched on 1 April and it is our target to reach almost 200,000 vehicles this year."
"We have talked to the banks and everything is ready. It is just some bureaucratic matters we are waiting for and everything will be ready in two weeks."
Morozov added the government would also allocate funds for modernisation as it looked to promote Russian companies taking advantage of a depreciating Rouble makinbg them more competitive.
"We will continue to subsidise some of the costs for modernisation," he said. "We plan to allocate a substantial amount of money for this year, around RUB5bn to stimulate modernisation processes, not only with the OEMs, but also with the parts manufacturers at all levels.
"We realise the Rouble depreciation [makes] vehicle manufacturers in Russia significantly more competitive."