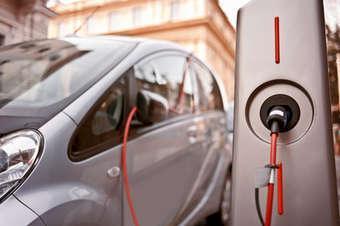 The Royal Automobile Club (RAC) has launched a new leasing service in the UK. It has joined forces with Hitachi Capital Vehicle Solutions to offer a wide range of the most popular EV models currently available in the market at prices starting from just £227.99 a month for a five-door Nissan Leaf 110kw N-Connecta 40kWh.
The RAC points out that EVs can work out cheaper than popular petrol models, particularly when factoring in the savings on fuel. For example, 10,000 miles of petrol for a car capable of doing 50 miles per gallon would set drivers back in the region of £1,179 a year at the current UK average price of 131p a litre in stark contrast to equivalent electricity cost of around £167 – a saving of more than £1,000 (£1,012) a year. And, as EVs are exempt from car tax, there's a further saving of nearly £500 over three years which equates to £163 a year. This means that between fuel and car tax, EV drivers can be over £1,300 a year better off than those in petrol or diesel cars.
As a result, when taking all running costs into account over the most common lease period of three years, the RAC believes it can work out considerably cheaper to run an electric car than a similar sized petrol one.
Drivers using the new RAC leasing site can also select a service and maintenance plan so they can be even more certain of their costs. In addition, the top deals featured are based on in-stock vehicles so customers can have their new car delivered in just a few weeks.
RAC director of EVs Sarah Winward-Kotecha said: "We know from RAC research there's a growing desire among drivers to go electric but that the high upfront cost tends to be the biggest barrier to take-up, so we've teamed up with Hitachi Capital Vehicle Solutions to help people make the switch more easily and more affordably.
"Using the RAC's manufacturer relationships, combined with Hitachi Capital Vehicle Solutions' expertise and buying power, we're able to offer some of the most competitive leasing deals available. Some of these are extremely compelling, so much so that a customer can lease a brand-new EV from as little as £227.99 a month. All customers need to do is find the best insurance for them.
"On top of this drivers also have the savings on fuel from driving electric which can amount to several thousands of pounds over the course of a three-year lease. And, the fact there's no car tax to pay on EVs means there's also a further saving of nearly £500 compared to a new petrol car.
"We'd urge any driver thinking of changing their vehicle to think about all the costs they'll pay for the period they have the car, as with an electric model there are substantial savings to be had."