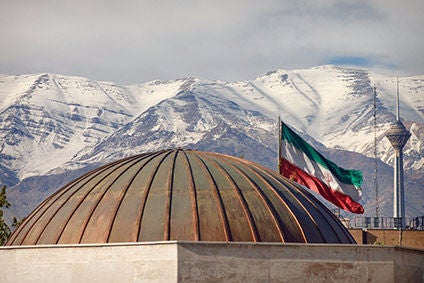 PSA Peugeot Citroen is staying tight-lipped on an extraordinary statement issued by Iranian partner, IKCO in which the Tehran-based automaker makes a startling series of claims with regards to 'compensation.'
Following the recent lifting of decades-long sanctions against Tehran in return for forensic examination of its nuclear energy programme, PSA announced it would return to Iran in a US$436m joint venture deal, but there was pointedly no mention of any supposed recompense by the French manufacturer as a result of the international community's opprobrium.
But Iran Khodro has released extremely comprehensive details – which cannot immediately be verified – of what it claims is EUR427m compensation and using the phrase, "damage inflicted" although no specific reference is made to the draconian sanctions regime.
"One hundred and sixteen million Euros would be paid for the damage inflicted on the current and past projects and EUR311m as part of discounts and bonuses for future cooperation," said IKCO CEO Hashem Yekehzare in Tehran.
"Peugeot has agreed to provide us with EUR25m worth of free spare parts for this year. We have already received parts of them."
The IKCO chief equally outlined further details of what he says is financing provided for Peugeot's 207 model, while also claiming a significant amount of debt would be written off.
None of this information has yet to be confirmed by Paris, with PSA confining itself to noting the joint venture deal was still in a binding rather than closing stage, with the latter expected to be concluded by the middle part of this year.
"We have no more commentary, we are just launching an agreement which is good for the two partners, for IKCO, for PSA," a PSA spokesman told just-auto from Paris. "We are confirming it [joint venture] is an agreement – it is a good agreement.
"We are not commenting on details on those figures [released by IKCO]. We are signing a first, binding agreement and in June when we speak about closing.
"There is more work to do. At the closing in the middle of the year, we can express a bit more on the situation."
What the French automaker is confirming is 40% of components must be sourced in Iran and the 50:50 joint venture will see a Tehran facility established to produce vehicles and whose platform the Iranian company will share to develop its own models as well as the 208, 2008 and 301 Peugeot cars.
The Iranian market represents huge opportunity for French legacy operators such as PSA and Renault, but also potentially for many more OEMs and suppliers, who are eyeing a possible 3m market by 2025.
Key among non-French supplier countries are those from Scandinavia, whose association, FKG recently led a delegation to Tehran, but Iranian component body, Auto Parts Manufacturers Association (IAPMA) CEO, Sasan Ghorbani, told just-auto he did not rule out British or American manufacturers establishing joint ventures.
The PSA spokesman noted there were currently 4m Peugeots on Iranian roads today – a result of the French automaker's 30-year involvement with the country – while before it left in 2012 it sold 450,000 vehicles.
Iran Khodro was not immediately available for comment from Tehran.