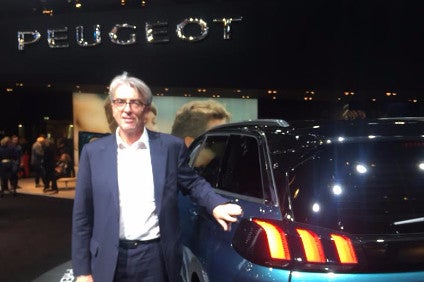 PSA says it is confident its supply chain will be robust enough to cope with the frenetic pace of new launches it is planning in the immediate future, as it evaluates component capability ahead of the huge drive.
The French automaker is unveiling a vast array of new models across its three group brands, Peugeot, Citroën and DS, including 26 passenger cars and eight light commercial vehicles, including a 1 pick-up, resulting in a 'one new car, per region, per brand, per year.'
The company also intends to unveil seven plug-in hybrids and four electric vehicles, as well as deploy a connected and autonomous vehicle programme.
"We are considering quality capabilities and capacity of suppliers," PSA Groupe director, supply chain and manufacturing, Yann Vincent told just-auto at last week's Paris Motor Show. "We are conducting a number of activities to assess performance of the supplier and capability.
"There is nothing really different from the time when fewer models were launched. It is only assessing the risk significance. It is something any OEM has faced in its industrial life. It might still happen, but there is no specific issue triggered by the number of launches – the number is more a challenge for engineering.
"When we decide to make a new product, we today define the sourcing base. We go to suppliers to assess capabilities to produce the product. We buy from them their own supply chain capabilities and if we consider there is a gap where they stand and where they should stand. We have an assessment of the risk."
The PSA director conceded the process was not without travails as the manufacturer found with one Tier 2 Japanese supplier, whose facilities were destroyed in an earthquake, but on the whole the process is relatively smooth.
"What is astonishing is in the end, we lose only a few cars," added Vincent. "We are not immune to this sort of situation – we are working hard to mitigate the risk while not engaging to make cost."
Part of that mitigation involves spreading any exposure through double sourcing, although there is clearly a price element in such a move.
"Obviously, double sourcing implies double investment to be very simple," said Vincent. "Multiplying by two the investment has to make sense not only from a risk management point of view, but it has to be relevant from a cost point of view.
"Is it possible for example to reduce the inbound cost?"
PSA's new plan envisages revenue growth of 10% by 2018, compared to 2015 and an additional 15% increase by 2021.