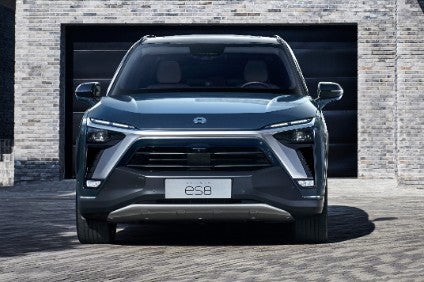 As promised last May, Nio has begun export sales in EV-friendly Norway.
Nio Norway has opened for orders of the large electric ES8 SUV, officially opened dealership Nio House in Oslo and announced plans to set up a substantial Power Swap network and offer Battery-as-a-Service (BaaS) to Norwegian users, plus announced authorised service shops in the country.
Nio Europe CEO Alexander Schwarz said "Norway is our starting point of our journey in Europe and beyond."
"Users, cooperation partners, authorities and media seem to acknowledge that we are attempting to build up a unique ecosystem and user enterprise here in Norway," added Marius Hayler, general manager of Nio Norway.
A user advisory noard has been at the centre of planning and progress during the past few months. Members have met with the automaker and each other on numerous occasions and were the first to experience the ES8.
The first service and delivery centre is located at Ensjø in Oslo and authorised service centres are in four other large cities: Kristiansand on the south coast, Stavanger and Bergen on the west coast, and in Trondheim, in the centre.
National authorities have already approved the country's first Power Swap station, which will be located in Lier, approximately 30km (20 miles) south of Oslo.
The company plans to set up 20 such stations in Norway by the end of 2022. The plan is to locate them in many main cities and along the busiest transport routes.
"Offering battery swap is an efficient way of extending the battery lifetime and thereby the life cycle of electric vehicles. The technology facilitates both sustainability and convenience for our users," said Hayler.
NIO will also offer Battery-as-a-Service (BaaS). Norwegian users who purchase an ES8 Signature Edition 100 kWh together with a BaaS subscription will be able to benefit from six battery swaps including service fee per month with an additional cost from NOK 1,999 per month.
Initially, BaaS users will be able to swap 100kWh batteries but, from 2022, downgrade to a 75kWh battery with a 150 kWh version being introduced in 2023.
The ES8 Signature Edition launches with a 100 kWh battery, equivalent to a WLTP range of up to 500km.
For delivery in July 2022, Norwegian users can now order the ES8 with a 75kWh battery, equivalent to a WLTP range of up to 375km.
The Signature Edition has air suspension, the digital assistant NOMI 2.0, the advanced driving system NIO Pilot and wireless machine and software upgrades. The model was recently awarded a five-star safety rating by Euro NCAP.
Users can choose between six and seven seat configurations. The vehicle has a maximum luggage space of 1,901 litres and a luggage space of 871 litres with the third seat row folded down. ES8 has 534 brake horsepower and does 0 – 100 km/h in 4.9 seconds. It is 5,022 mm long, 2,268 mm wide and has a wheelbase of 3,010 mm.
"Norwegians love large SUVs with plenty of space, four-wheel drive and a solid battery range. We believe ES8 ticks all the boxes for Norwegian users, and we are also delighted that we can offer a competitive price for such a large electric vehicle," said Hayler.