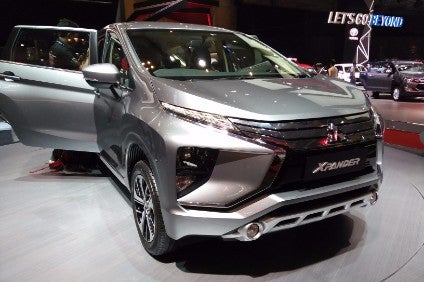 Mitsubishi Motors said its new Xpander multi-purpose vehicle had enjoyed one of the most successful launches of any vehicle introduced in Indonesia.

Since launch at the Gaikindo Indonesia International Auto Show (GIIAS) last August, MMC has taken more than 23,000 orders for the MPV, specially designed for Indonesian drivers. More than 5,000 orders were placed during GIIAS itself, more than were placed for any car model launched by any brand at the show since 2010.

This early success was celebrated as the first Xpanders came off the production line at the automaker's new Bekasi assembly plant which began making vehicles in April. The company has begun delivering the new MPV to first customers.
Trevor Mann, chief operating officer at Mitsubishi Motors Corporation, said: "The rollout of our all new MPV is an important milestone, not just here in Indonesia but across the ASEAN region."

"The high demand reflects how well suited this new generation of MPV is to meet the needs of our Indonesian customers."

"With a young population of more than 260m people and the opportunity for higher levels of vehicle ownership, Indonesia is a strategic priority."

The Xpander is the first completely new vehicle since Mitsubishi embarked on its recovery and highlights the company's ambition for growth in Indonesia.
Reflecting demand, the company has brought forward one month the introduction of a second shift at Bekasi.

The factory is 37 km east of Jakarta and covers 30 hectares.
Mitsubishi plans to make the new model available across the ASEAN region. Beginning in early 2018, it will be the first vehicle it has exported from Indonesia.