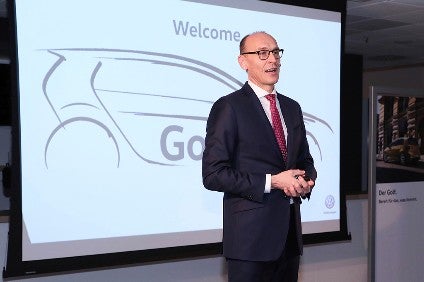 Volkswagen said 80% of all suppliers planned for its eight generation Golf – due out in about 18 months – "were already under contract for the current Golf".
Procurement chief Ralf Brandstatter told 180 managers from 120 key suppliers at a summit in Wolfsburg: "This is a sign of considerable mutual loyalty, creates a broad basis of trust and provides greater security for planning. Together with the ID family, the introduction of the upcoming Golf generation will be the most strategically important product launch for the brand."
Following supplier selection, the next phase of joint work with suppliers will now start with a view to ensuring a trouble-free start of production for the next Golf.
"We have reached the decisive second stage of the project."
The Wolfsburg plant currently produces 2,000 Golf family vehicles a day and will remain the core factory. The model is sold in 108 countries and has sold over 35m since the Mk1 launched in 1974. VW sold 3.4m in 2.17 alone and is spending EUR1.8bn to develop the 'Mk 8'.
Volkswagen said it integrates its component supplier "intensively in the product creation process at an early stage within the framework of value sourcing". Suppliers contribute ideas and technical suggestions to vehicle projects in concept competitions.
Hell is responsible for ensuring that all departments cooperate in the optimum way and that the Golf makes its contribution to financial performance.
He said: "The next Golf will take Volkswagen into the era of fully connected vehicles with extended autonomous driving functions. It will have more software on board than ever before. It will always be online and its digital cockpit and assistance systems will be the benchmark in terms of connectivity and safety."