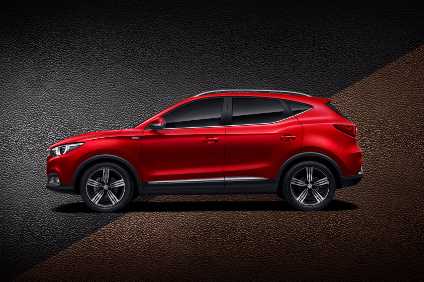 SAIC brand MG's UK distribution unit has showed its compact SUV – the MG XS – at the London Motor Show earlier today.
The XS/ZS (it is called ZS in China) had its world premiere at the Guangzhou motor show in November 2016. This 4,314mm SUV went on sale in China during March 2017.
The launch versions were available only in front-wheel drive form. In certain export markets, such as the UK, the ZS will instead be the XS. EV and PHEV versions are due to be added during 2018.
Expected to arrive in UK dealerships in late 2017, the MG XS will be available in two engine derivatives and either automatic or manual transmission.
MG said that 'pricing will be highly competitive, making the MG XS perfect for young families and new drivers alike'.
Matthew Cheyne, Head of Sales and Marketing at MG Motor UK, commented: "The MG XS will be a real game-changer in the compact SUV marketplace. The meaning behind the name is simple – S stands for SUV, X means extra. Featuring state-of-the-art driver technology and innovative design, the new model builds on our growing reputation for capability, performance and quality, positioned at a highly-affordable price – the customer gets extra, for less!
"Full specifications, trim details and pricing will be announced later this year. Until then, customers can pre-book test drives and pre-order model brochures via approved MG dealers nationwide."