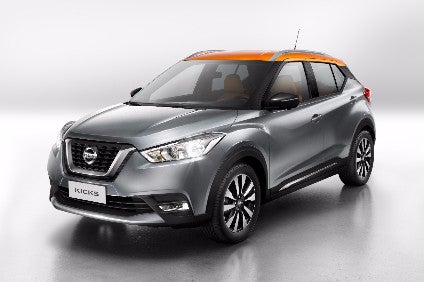 Nissan has chosen Rio de Janeiro City for the global première of its compact, daringly-styled Kicks compact crossover which, it said, embodies a strong personality and is focused on details, especially aerodynamic features.
Design was a close collaboration between Nissan Design America in San Diego, California, and a satellite studio in Rio de Janeiro City.
The Kicks will be publicly super-exposed as it follows the Olympic flame through Brazil.
Interior design was revealed in top-line form with Around View Monitor (360 degrees view through four cameras) and Moving Object Detection, a claimed segment first. The dashboard is soft leather-trimmed, but the orange colour scheme appears more for show than what will actually be ordered by customers.
The Kicks is roomy inside on a 2.61m/102.7in wheelbase, 1cm/0.4in more than a Versa saloon, a model known for generous rear seat dimensions, especially headroom and legroom. Hopefully the fuel tank won't be as small as the March/Versa's 41 litres/10.8 gallons.
Global sales begin here in Brazil in August followed by other Latin American countries later in 2016.
Initial supplies will be imported from Mexico. Production at Brazil's Resende plant, 162km/101 miles northwest of Rio de Janeiro City, is set for early 2017.
Nissan will spend BRL750m/$192m this year to produce 2,500 units monthly.
The Ford EcoSport, Honda HR-V, Jeep Renegade, Peugeot 2008 and Renault Duster are the Kicks' main competitors.
Yet to be officially revealed underpinnings are from the March (aka Micra) – a 1.6-litre/97.6 cu in flex-fuel engine with 109 bhp achieved either on ethanol or petrol.
The Kicks eventually will be sold in at least 80 countries.