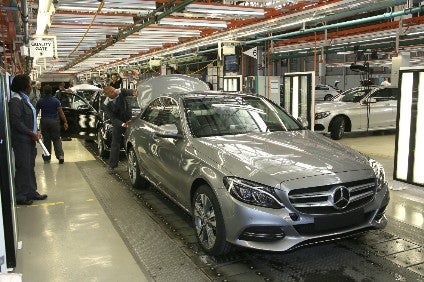 Daimler's Mercedes-Benz Cars said it would produce the next generation C-Class at its East London, South Africa factory which would be expanded at a cost of EUR600m.
This includes new paint and body shops, an upgrade of the assembly hall and new logistic warehouses.
The new buildings take up 100,000 sq m, an addition of two thirds of the existing apace for passenger vehicle production.
"We are significantly expanding our plant in East London and equipping it for the future. The decision to have the new generation of the C-Class built in East London re-affirms the plant and Mercedes-Benz South Africa. The investment is also a sign of our commitment to South Africa and efforts to revive economic growth as well as the socio-economic development of the East London region," said Mercedes' production and supply chief Markus Schaefer.
South African president Cyril Ramaphosa, present at the announcement, said: "A central priority for government this year has been to encourage significant new investment in our economy, necessary to realise economic growth, employment and reduce inequality. The announcement by Mercedes-Benz Cars to inject R10bn in the South African economy signals to the positive momentum we are making to realise the ambitious target of raising R1.2 trillion in new investment. This investment endorses South Africa as a favourable destination for investment and demonstrates our determination to work with all social partners to seize the opportunities that are opening up for greater investment and faster growth."
Mercedes-Benz has built cars at East London for 60 years.
Many different parts of the plant will be affected by the expansion, both green and brownfield. The new body shop is designed for higher capacities and features more than 500 Internet of Things – ready robots ready for Industry 4.0.
Seven hundred tonnes of steel will be installed for the addition of three lines in the current assembly hall.
New methods will make the new paint shop more energy efficient and more environment-friendly with overall energy consumption per vehicle reduced 25%.
Other examples include on-site battery storage container, rain water harvesting on rooftops, water storage of 1m litres and the creation of green corridors.