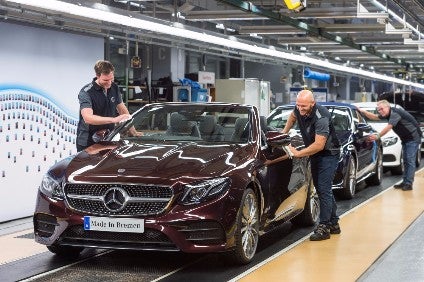 Series production of the latest E-Class cabriolet has started at Daimler's Mercedes-Benz plant in Bremen. Market launch is in late summer 2017.
The production start is a milestone for the Bremen factory: within a period of three years, the plant has completely renewed its product range consisting of 10 models.
"With the production start of the E-Class cabriolet we have successfully managed the latest in a whole series of start-ups," said plant manager Peter Theurer. "This means that the team in Bremen has maximum production flexibility across the whole range of models, variants and drive systems. Thus, we are very well positioned for the future, and can respond rapidly to customer demand."
By the end of the decade, the range of vehicles will comprise all intelligent drive systems from classic combustion engine and plug-in hybrids through to fuel cell and electric vehicles.
In the assembly shop, the new cabriolet is produced on the same line as the coupé, C-Class coupé and cabriolet. During the start-up phase, the Bremen team worked together closely with colleagues from the Sindelfingen plant where the saloon and estate models are produced.
Together, the three-dimensional, virtual assembly of the vehicle was tested in digital workshops and training courses on the complex special equipment were carried out.
The wide range of model line features – standard and optional – requires production efficiency and flexibility which is also achieved by using intelligent logistical concepts.
Driverless transport systems deliver baskets containing the precise components and parts required for the individual vehicle to the production line where they are then fitted without the need for intermediate buffering.