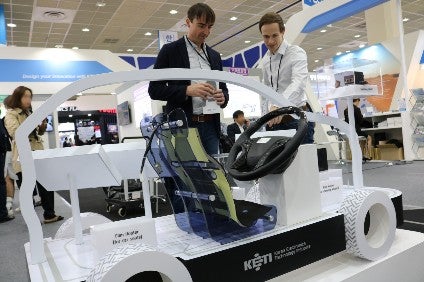 Mercedes-Benz Cars Procurement said it is scouting for suppliers amongst "the trendsetters of consumer electronics with a focus on innovative ideas" at the Korea Electronics Show (KES).
The four day show is the leading electronics and IT event in Asia.
"Tomorrow's technology is presented at the KES, one would not expect in the automotive industry immediately," Mercedes said.
This is the second time its Procurement and Supplier Quality unit has taken part in KES with its own stand. A CLS and GLC are being shown as the vehicles contain components from Korean suppliers.
Supplier talks are taking place during the fair to actively search for new suppliers. At the same time, trend scouts are looking for innovations for the next generation of vehicles. The scouts also will visit established Korean suppliers and startups around the country.
"Korea is an important market for Mercedes-Benz. Daimler works with numerous Korean suppliers, who convince with competence, top quality and an extensive experience in consumer electronics and automotive sector," the automaker said.
Components include vehicle displays, navigation software, map data and EV battery cells.
The automaker noted the "traditional supplier set is changing due to digitisation and electro mobility".
"New players, which are known from the IT or consumer electronics industry, are playing an increasingly important role in the automotive sector."
Mercedes-Benz combines these trends under its CASE strategy: Connected, Autonomous, Shared & Services and Electric.
Hence Procurement is working closely with development and new high tech partners to bring innovations into new vehicles.
Interior design and technology – Mercedes-Benz E-Class