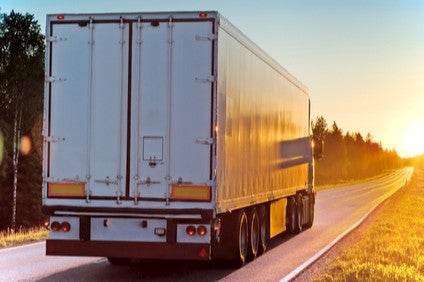 Lorries using Port of Calais to cross the English Channel are being "completely shredded" with knives as the migrant crisis engulfing Northern France escalates daily.
The startling claim is being made by the UK Freight Transport Association (FTA), which is seeing attacks on its members and overseas truck drivers, also encompass chainsaws and burning road blockades.
The FTA insists escalating disorder is "definitely not" confined to British lorry drivers alone, as reports of barricades in flames and knives being used to slash truck sides, continue to flood in.
Numbers of fleeing refugees at the Northern French port are swelling weekly, with some now estimating the temporary 'jungle' camp at Calais to be sheltering up to 10,000 people, most of whom appear determined to reach the UK by smuggling themselves on trucks or the Eurostar train service across the English Channel.
The issue dominated yesterday's (30 August) Paris meeting between new UK Home Secretary, Amber Rudd and French Interior Minister, Bernard Cazeneueve, who jointly pledged to crack down on what appear to be criminal gangs trafficking migrants desperate to reach the shores of England.
Both Secretaries of State also maintained the controversial 'juxtaposed' immigration controls would remain on the French side of the border – a growing bone of contention among politicians in Paris with an eye on Presidential elections looming next year.
"We have lots of reports of attacks on drivers and road blocks," an FTA spokeswoman told just-auto. "Any delay just adds to cost. Also you need to consider the damage to trucks – some of these just get completely shredded with knives.
"We have seen Police reports warning holidaymakers not to travel between midnight and 06:00. It is absolutely not just a British situation, [although] obviously our interest is for our members."
The FTA also referenced what seems to be a growing momentum towards a day of action next Monday (5 September) as a coalition of lorry drivers and worried local businesses affected by the major disruption, coordinates to impose an 'operation escargot' or go-slow around Calais.
"French lorry drivers are going to take some action on Monday, [with] rolling road blocks," added the FTA spokeswoman. "We have seen the port mention it [refugee situation] slows everything down, simply because of the extra checks that go on, that is going to add to the price.
"The level of threats definitely seems to have increased and the number of migrants has increased."
The FTA is backing the UK stance of maintaining its immigration presence in Calais, under the auspices of the 2003 Le Touquet agreement, which allows Britain to carry out checks at the French port. The same deal also sees French immigration officers undertake similar tasks at Dover.
There is a growing clamour in France for this joint effort to be axed, particularly after London's decision to quit the European Union, although the issue is potentially clouded by politicians using the crisis to score points as jockeying begins for 2017 Presidential elections.
"Sending the UK border controls back to Kent would create chaos for cross-Channel freight traffic," added FTA deputy chief executive, James Hookham. "The layouts of both the Port of Dover and the Folkestone Channel Tunnel terminal would need to be completely redesigned and the number of sailings and shuttles would be limited to the rate at which passport and immigration checks could be completed upon arrival.
"This would be bad news for Britain and France. FTA supports the continued co-operative working of the British and French governments over these issues and urges the safety and security of port and tunnel users, especially truck drivers be prioritised."
The FTA said the jungle camp should be moved away from the port to prevent ongoing attacks on truck drivers, while calling for "proper processing procedures" to be put in place to ensure genuine asylum seekers quickly receive the help they need.