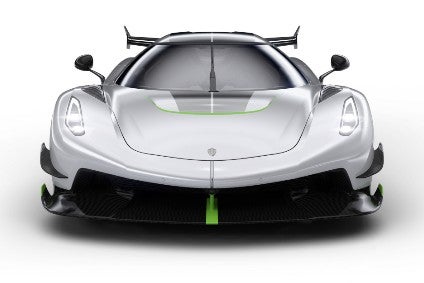 The Jesko, a so-called 'megacar' revealed by Koenigsegg at the Geneva motor show, has a self-developed transmission which can cope with 1,500Nm of torque.
This replacement for the Agera RS is named after Jesko von Koenigsegg, the father of company founder and CEO Christian. The car, which premieres a new carbon fibre chassis and transmission, is powered by a biturbo 5.0-litre V8 which delivers a claimed 955kW (1,280PS) on standard gasoline or 1,195kW (1,602PS) running on E85. Torque is quoted as 1,500Nm (1,106 lb-ft).
The Light Speed Transmission, a play on words denoting both low weight and the rapidity of the shifts, is a multi-clutch unit. The LST was designed in-house as an alternative to a dual-clutch gearbox, which the company says would have ended up weighing around 200kg. This transmission, which lacks traditional synch rings, has eight actuators, eight pressure sensors and eight clutches. One of the latter is for the electronic differential. All of this is contained within an aluminium housing, the entire unit weighing 90kg – including wet clutches, flywheel, fluids, starter motor and oil pumps – the company says.
Further technical details of the gearbox and the Jesko can be viewed here.
In January, NEVS, the Chinese firm which bought the assets of the former Saab Automobile, stated that it would put 150 million euro (at that time, CNY1.15bn) into a JV with Koenigsegg. The Swedish company is understood to be keen on having a partner which can help it share the costs of future electrification. NEVS also took a 20 per cent holding in Koenigsegg. In an interesting twist, Koenigsegg had some years earlier been an unsuccessful bidder for Saab.
Details of the Chinese-Swedish electrified potential 'megaSUV' which may be in the planning stages at the company's Ängelholm base can be found in PLDB, the future vehicles database which is part of QUBE.