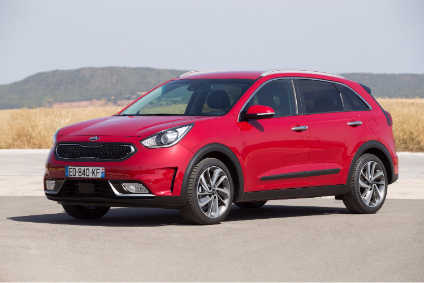 Kia is hoping to appeal to a new set of car customers with its new Niro hybrid compact crossover. Kia says it is the first to this segment and that a plug-in hybrid version will follow in 2017.
Niro is a dedicated hybrid model built on a new platform that will only be used for electrified vehicles. It features a new 1.6-litre, 104bhp internal combustion engine and a 43.5bhp electric motor driving through a six-speed double-clutch automatic transmission.
In Europe, hybrid sales in the UK and mainland Europe have doubled over the past five years and are expected to reach 700,000 annually by the end of the decade, Kia says, pointing to its burgeoning success in the market and good timing with Niro introduction and a plug-in hybrid version of the car to follow next year.
Starting price in the UK market will be GBP21,295.
Kia highlighted the Niro's low CO2 emissions and fuel efficiency as a major contributor to tougher regulatory targets for fuel efficiency and CO2. The CO2 emissions average is put at 88g/km with fuel economy of up to 74.3mpg.
Kia said Niro will make a significant contribution in helping Kia meet its pledge to reduce the average emissions of its range by 25% before 2020.
Driver assistance features and connectivity highlighted
Niro comes to the UK in a four-model line-up badged '1', '2', '3' and 'First Edition'. Every version has a Lane Keep Assist System, Hill-start Assist Control, Cruise Control and a Speed Limiter. All trim levels are equipped with a DAB radio and are able to support Bluetooth smartphone connectivity and music streaming.
Niro is the first Kia with Android Auto, which works with Android smartphones running 5.0 (Lollipop) or higher. Android Auto connects the user's smartphone to the car's infotainment system and, through pre-downloaded apps, gives access to a variety of services such as Google Maps navigation, Google Play music, hands-free calls and texts and voice recognition.
In addition to its connectivity and driver assistance systems, grade '1' comes with 16-inch alloy wheels, a high-gloss black radiator grille with a black and chrome surround, dual automatic air conditioning, an automatic windscreen de-fogging system, LED daytime running lights and tail lights, a 3.5-inch TFT supervision cluster, all-round electric windows and electric exterior mirror adjustment, USB and AUX ports and a trip computer.
Grade '2' adds a 7-inch touchscreen navigation system with European mapping, a Reversing Camera and Kia Connected Services linked to TomTom®. This provides up-to-the-minute information on traffic hold-ups, weather, speed camera locations and local points of interest. Kia Connected Services is free for seven years from the time the car is bought. Grade '2"s extensive standard specification also introduces high-gloss black trim highlights and a leather-covered steering wheel and gearshifter, black cloth and leather upholstery, roof rails, privacy glass on the rear windows and tailgate, chrome interior and exterior door handles, reversing sensors, an under-floor tray, rain-sensing wipers, a ventilation duct in the rear of the cabin and electrically adjustable, heated and folding door mirrors with LED indicators.
Further additions for grade '3' are an 8-inch touchscreen navigation system with European mapping, a wireless mobile phone charger and an eight-speaker sound system with an external amplifier. The step up to grade '3' also brings 18-inch alloy wheels, black leather upholstery, front parking sensors, heated front seats and steering wheel, a power-adjustable driver's seat plus powered lumbar adjustment and stainless steel scuff sill plates.
The top-of-the-range 'First Edition' version adds Autonomous Emergency Braking, Blind Spot Detection with a Rear Cross Traffic Alert and Smart Cruise Control.
Autonomous Emergency Braking and Smart Cruise Control are optionally available on grades '1', '2' and '3' in an ADAS (Advanced Driver Assistance Systems) package. With these features fitted, Niro has been awarded a five-star crash-test rating by Euro NCAP.
Six-speed double-clutch automatic gearbox (6DCT) rather than CVT
Kia has opted to fit the Niro hybrid with a six-speed double-clutch automatic gearbox (6DCT) rather than the more commonly favoured for hybrids continuously variable transmission (CVT). Kia claims this results in a more direct and immediate response with greater refinement; a 'Manual Sports' mode allows drivers to select gears manually.
Specially engineered 1.6L GDI
The petrol engine is a new 1.6-litre direct-injection (GDI) unit, specifically engineered for use in hybrid cars. It develops 104bhp and 147Nm of torque, and conforms to Kia's policy of adopting high-efficiency downsized power units for all new models. For Kia, the engine marks the first combination of an Atkinson combustion cycle, cooled exhaust gas recirculation, direct petrol injection and a long-stroke specification for maximum efficiency. The Atkinson cycle holds the intake valve open longer than in a normal Otto cycle engine and also reduces the compression ratio to extract a greater proportion of energy from the combustion process. Efficiency is further aided by an exhaust heat recovery system which speeds the engine warm-up process.
The combustion engine is paired with a 32kW (43.5bhp) electric motor developing 170Nm of torque and powered by a 1.56kWh lithium-ion polymer battery. Together, the two power units produce 139bhp, with 265Nm of torque available in first gear for rapid acceleration from standstill.
Parallel hybrid
Niro is a parallel hybrid, which means that most of the time the petrol and electric power units work together. However, it can operate in all-electric mode for short distances when setting off, under gentle acceleration and when descending slopes or braking. A brake energy recovery system recoups energy normally dissipated as heat and stores it in the batteries for use later. The switch between all-electric, hybrid or petrol engine-only modes is seamless and varies according to the load being placed on the powertrain at any given time. This advanced powertrain ensures Niro is capable of up to 74.3mpg, with CO2 emissions from only 88g/km.
The in-house 6DCT gearbox incorporates a new Transmission-Mounted Electric Device (TMED) which allows the full output of both power units to be transferred in parallel to the (front) drive wheels, with minimal energy losses. This differs from the power-split system typical of CVT transmissions, which convert a portion of engine output for delivery through the electric motor, resulting in a loss of energy. TMED allows the hybrid system to access battery power directly at higher speeds for swifter response.
New platform exclusively for electrified vehicles
There will be no combustion engine-only version of Niro. Its all-new platform has been engineered exclusively for electrified vehicles, and a plug-in hybrid version (PHEV) will be introduced for the 2017 model year, Kia says.
The platform has been designed to accommodate present and future electrical components within a compact vehicle footprint "without intrusion into the spacious interior and luggage area". A slightly raised crossover-style seating position makes getting in and out easier and provides a superior view out, Kia claims.
High-strength steel
Kia says the structure is particularly strong and includes 53% advanced high-strength steel, which ensures that rigidity and safety do not compromise weight. This is aided by extensive use of aluminium for the bonnet, tailgate panel, front bumper back beam and several chassis elements, including the front knuckles, front lower arms and brake calipers. Even the parking brake pedal, which is made of fibre-reinforced plastic, contributes to the weight savings, Kia points out. To ensure body integrity and rigidity in critical areas, hot-stamped steel is used to reinforce the A- and B-pillars, roof rails and wheel arches.