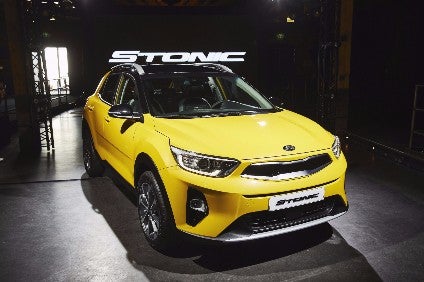 Kia Motors Europe said its new Stonic, on sale from the third quarter, is set to become an important conquest model for the brand in one of Europe's newest and fastest-growing vehicle segments.

The B-SUV segment currently accounts for 1.1m new car sales in Europe each year – around 7% of the market – and is forecast to expand to more than 2m by 2020.

Michael Cole, KME chief operating officer, said: "By volume, the B-SUV market is expected to overtake the C-SUV segment by 2020 when more than 1 in 10 new cars sold in Europe will be from the Stonic's segment. The B-SUV segment attracts buyers from across the spectrum, with 21% of all customers upsizing from a supermini, and another 15% downsizing from their family hatchbacks. Cars like the Stonic also appeal to those looking to replace their compact MPVs.

"The Stonic will be one of the most compelling new cars in this rapidly-expanding class, backed by our unique warranty, and the brand's reputation for reliability, quality and contemporary design. As the segment expands, the Stonic looks set to become one of our best-selling cars."

Kia said the crossover is its most customisable model ever, inside and out. This is important to many customers in the B-SUV segment, and the Targa-style roof enables buyers to choose two-tone paint, inspired by the design of the 2013 Provo concept. It will be available in up to 20 two-tone colour combinations with a choice of five colours for the roof.

A range of lightweight, downsized, turbocharged petrol and diesel engines will available, each paired with a manual transmission. These are the one-litre T-GDI (turbocharged gasoline direct injection) engine, producing 120PS, as well as 1.25- or 1.4-litre naturally-aspirated MPI (multi-point injection) petrol engines. A 1.6 litre diesel completes the range, offering the lowest emissions. No automatic option will leave the Kia at a disadvantage over rivals such as the Nissan Juke and Opel/Vauxhall Mokka, however, which do offer the alternative.

Kia said steering and suspension have been tuned in Europe and electronic stability control (ESC) and vehicle stability management (VSM) are standard.

Apple CarPlay and Android Auto will be standard, bringing seamless smartphone and items such as heated front seats, automatic cruise control and keyless entry will be available.

Available driver assistance systems include Autonomous Emergency Braking (AEB) with pedestrian recognition and Forward Collision Alert (FCA); Blind Spot Detection (BSD) with Rear Cross Traffic Alert (RCTA); and Lane Departure Warning System (LDWS). Backed by a new fusion camera system, the Stonic will also offer High Beam Assist (HBA) and Driver Attention Warning (DAW).