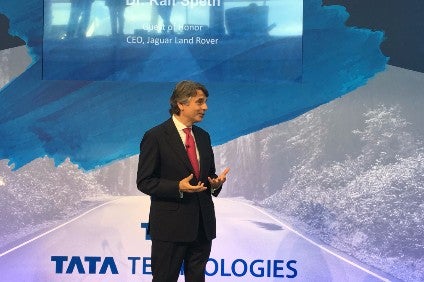 Jaguar Land Rover says its relationship with Tata Technologies is "close" as it leverages the engineering services company's competences in myriad disciplines.
Tata Technologies has just (12 July) inaugurated its European Innovation and Development Centre (EIDC ), a GBP20m (US$26m) centre in the British Midlands region, where it partners manufacturing for engineering and product life-cycle management consultancy among other areas.
The inauguration of the EIDC has initially created 200 jobs for design engineers and programme managers in Science, Technology, Engineering and Maths (STEM), but the building has capacity to house 600 staff.
EIDC will house Tata Technologies ' engineering support services, two labs, as well as an R&D centre to develop sectors including automotive, aerospace and industrial machinery.
"We have worked with Tata Technologies for many years," JLR CEO, Ralf Speth told just-auto on the sidelines of the EIDC opening. "We have generated many ideas from engineering to IT – [it is] a close relationship.
"When in 2008, Tata bought JLR , we entered into [the] most critical recession in living memory. Without Tata we all would not stand [here] – can you imagine? We could restructure the company…for profitable and sustainable growth.
"Out of this [Tata Technologies ] relationship we have developed a very good partnership. The automotive industry is at a tipping point – we are going to [see] more changes in the industry in the next three to four years than in the last fifty. Automated, connected, hybrid mobility, not only cars but commercial vehicles too. Generally, everybody starts from scratch."
Speth made his comments in front of hundreds of guests attending the inauguration, including Tata Technologies chairman, Subramanian Ramadorai, who officially cut the ribbon marking the opening of the centre.
The JLR chief underlined the importance of the EIDC to the automaker as the industry looks to take the rapid advances in technology into the cars of tomorrow.
"This kind of unbelievable change is the time of flexible, agile companies and Tata Technologies can be this kind of flexible company based on expertise," added Speth.
Tata Technologies has more than 8,500 employees serving clients worldwide, designing, engineering and validating products for leading manufacturers.
The EIDC building will serve as the company's European headquarters and follows the opening of new delivery centres in Gothenburg and Paris earlier this year.