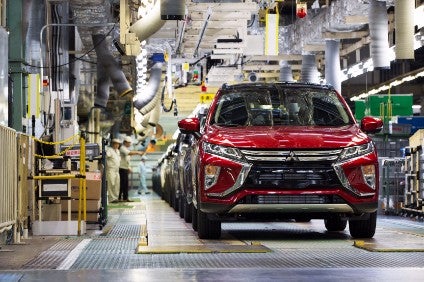 Vehicle production in Japan plunged by a record 67% year on year to 287,502 units in May, based on data provided individually by the eight main domestic vehicle manufacturers.
The decline followed an almost 47% drop in April, reflecting widespread factory closures due to plunging domestic and overseas demand at the peak of the global COVID19 pandemic.
While domestic sales have held up relatively well, many key overseas markets were under lockdown in the second quarter of the year with very limited economic activity taking place.
The drop was also the worst on record, even steeper than the 60% drop recorded in April 2011 after the country was hit by a massive earthquake and tsunami which devastated coastal regions in the north east.
All automakers resumed operations in June though overall output volumes are expected to remain well below pre-COVID19 levels for some time as economies around the world remain depressed.
Mazda posted the sharpest decline in May, of almost 84% after an 86% drop in April, followed by Nissan with an almost 79% plunge and Subaru with a 78% drop.
Toyota, cut its output by 57% to 122,744 units.
Exports by the eight automakers fell by over 67% year on year to 110,996 vehicles in May while overseas production fell by almost 62% to 629,256 units.