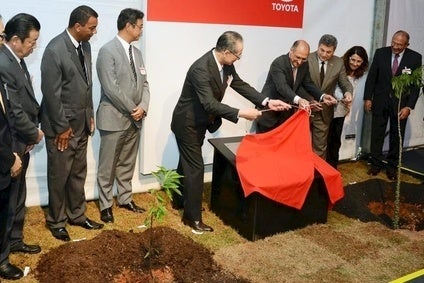 Toyota Motor boosted both operating and net profit in its first fiscal quarter as unit sales (+0.4%) and revenue (2.2%) only inched up compared with a year ago. Nonetheless, operating profit beat analysts' estimates.
The automaker sold 2,241,285 vehicles in the first quarter, up just 9,426 from the same period last fiscal year. Revenues rose 2.2% to JPY6.39 trillion. Operating income increased 4.4% from JPY663.3bn yen to JPY692.7bn. Net income increased 4.6% from JPY562.1bn to JPY587.7bn.
Toyota said cost reductions (JPY40bn) and "currency fluctuations" (JPY30bn) were key factors contributing to the operating income increase of JPY29.3bn.
Managing officer Takuo Sasaki said: "In addition to cost reduction efforts and favourable foreign exchange rates, valuation gains and losses mainly from interest-rate swaps were positive factors. However, changes in model mix and increases in expenses impacted us negatively."
The first-quarter operating profit was higher than the JPY637.3bn mean estimate of 13 analysts surveyed by Thomson Reuters I/B/E/S.
"Conditions in Thailand, India, Brazil and other emerging markets are weak," managing officer Koki Konishi told an earnings briefing, according to Reuters.
"But we're trying our best to get an additional 50,000 vehicles out of Japan to offset some of that, and to reach around 2.3m in the US."
Vehicles sales in Japan fell 19,950 units to 505,827 units with operating income down JPY90.1bn to JPY365.9bn.
North American unit sales, however, rose 21,753 to 710,409 and operating income increased JPY46.1bn to JPY149.7bn.
European sales also rose, by 14,970 to 207,481 and operating income was up JPY5.6bn to JPY10.8bn.
Asian volume fell 9,490 to 385,376 units while operating income increased JPY6.2bn to JPY110.3bn.
In the "other regions" (including Central and South America, Oceania, Africa and the Middle East), sales rose 2,143 to 432,192 units and operating income fell JPY8.4bn to JPY34bn.
Financial services operating income rose JPY46.9bn to JPY98.2bn.
Toyota is holding steady on its full fiscal year (to 31 March, 2015) forecast of 9.1m unit sales as announced in May.
It forecast net revenue of JPY25.7 trillion, operating income of JPY2.3 trillion and net income of JPY1.78 trillion based on an exchange rate assumption of JPY101 to the US dollar and JPY136 to the euro.
According to Reuters, the automaker hiked its North America sales forecast to 2.71m vehicles from 2.62m, the target for Asia, excluding Japan, was clut to 1.58m from 1.63m while Europe was inched up to 860,000 from 850,000. Japan was left unchanged at 2.21m.
Data compiled by just-auto this week showed Toyota's sales up 11.6% to 215,802 units in the US in July, beating Ford (+9.5%; 211,437) to second place behind General Motors (+9.4%; 256,160).