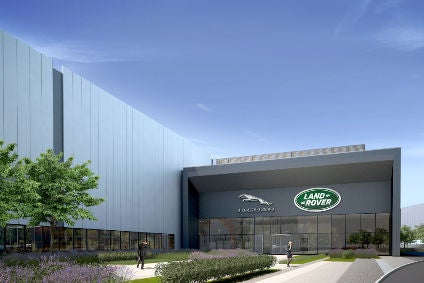 Jaguar Land Rover (JLR) has said it will invest GBP450m to double the size of its UK engine manufacturing plant.
JLR said the new investment in the Engine Manufacturing Centre (EMC) is being driven by global demand for current and future models and takes the company's investment in the site – which opened a year ago – to GBP1bn.
Several hundred new jobs will be created by the expansion, JLR says.
The EMC makes the low emission Ingenium engine – JLR's first venture into in-house engine manufacturing in a generation. Over the past year the Midlands-based (Wolverhampton) facility has moved from prototype production to full-scale manufacture with more than 50,000 engines coming off the production line.
The Ingenium engine launched initially in the Jaguar XE in April 2015 and was followed by the Discovery Sport. ,Today the EMC is supplying all three JLR vehicle plants with engines which also power the Range Rover Evoque, Jaguar XF and soon to be launched Jaguar F-PACE.
JLR said the latest phase in the development of the EMC will see the site increase its operational footprint to 200,000 square metres, supporting capacity uplift as the company continues on its product offensive to deliver more exciting new products to customers.
Jaguar Land Rover CEO, Dr. Ralf Speth said: "We are proud to be such a significant investor in advanced manufacturing in Britain and are excited by this expansion and the new jobs it will create.
"The Engine Manufacturing Centre is a strategically significant facility for Jaguar Land Rover. The decision to expand our operations at the site provides a clear signal of our commitment to meeting customer demand for cleaner and more efficient engines, whilst developing the skills and capability that Britain needs if it is to remain globally competitive."
Today's announcement will lead to the creation of several hundred new jobs at the EMC in a move which will see Jaguar Land Rover's global workforce hit 40,000 by next year. In the twelve months since its opening the EMC has seen its workforce reach 700 with further recruitment ongoing, the company says.
ANALYSIS
While JLR did not divulge further details of what the project entails, the additional investment is understood to be necessary to broaden the portfolio of the AJ200/Ingenium engines beyond its current 4-cylinder limitations. Due to continued CO2 compliance pressures this will no doubt include 3-cylinder variants. Further, both the Bridgend-built AJ126 and Dagenham-built TDV6 need replacing to maintain competitiveness. Whether JLR opts for an inline six or V6 configuration for its future sixes remains to be seen. Inline sixes have cost advantages, but V6s are easier to package. However, with both Daimler and BMW favouring inline sixes for cost and complexity reasons it is probable that JLR will opt for the straight six option.
Calum MacRae, just-auto/QUBE analyst