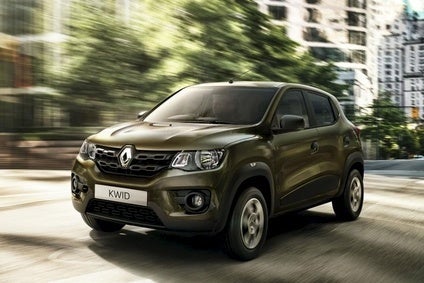 The first production model for the Renault -Nissan Alliance's CMF-A platform has been revealed. The Kwid, which was formerly known mainly by its XBA project code, will initially be built and sold in India.
The Kwid is a tall 3.68m long crossover for the A segment and will be priced at between Rs3 lakh and Rs4 lakh (US$4,232-6,275). Production will be at the Alliance's Oragadam/Chennai plant.
The new car will have a standard 800cc, three-cylinder petrol engine (Codename: BR8) and a five-speed manual transmission. While no diesel is expected, a 1.0-litre BR10 petrol engine should be added in 2016 or 2017.
This is the first all-new programme developed from the ground up by Renault SAS and Nissan Motor Co., Ltd., teams working side by side from inception. Internally named CMF-A, this covers the most affordable category of cars in the Common Module Family, Renault-Nissan's unique, modular system of vehicle architecture. The first CMF-A vehicle was the Datsun concept which debuted at the Delhi motor show in February 2014.
Renault hopes this additional model will help it lift its current two percent share of the Indian market to an eventual five percent. Apart from the Duster, its products have yet to catch on with local buyers.
There might well be a future Dacia-badged version of the Kwid for export to Europe.